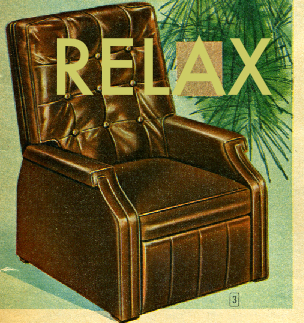 This Recliner lives in my head.
This is where I choose to sit (in my mind) at any point during my day when I feel that I am in danger of my head exploding. If everything is crazy all around me, I am in this chair. I had to do something...I needed a place to just sit and relax because the daily grind of being a Mom was starting to rob me of my joy.
Little things started to get to me. Things that shouldn't matter. Like the 20 minutes before I take Griffin to school. For some reason I was feeling really tense every single day at this time. From having to tell Griffin ten times to put on his shoes to watching him dawdle his slow little butt to the car as we froze half to death in unseasonably cold weather that we are all ill prepared for. I would get vexed with how heavy
Koen
felt in my arms as I rushed to get Griffin settled in his classroom so that I could get the baby back home where it was warm. It was like a mad insane dash that was designed to drive me crazy. I have to repeat this process everyday, so why be all tense about it?
I decided to get a recliner for my brain. I know that it's an ugly chair but it's so comfy. I sit in it at the grocery store too. When Griffin is touching everything in sight even when I asked him to keep his hands in his pockets and he knocks down this and that off the shelves. We simply leave a little trail behind us as I plop down into my mental recliner. When he begs over and over for me to buy him whatever crappy food he saw advertised on
Nickelodeon
, I just take a seat. Sometimes, I pop out the footrest and recline back when I am in traffic and the baby is crying and Griffin is screaming over the baby that he wants candy or that he wants to watch
Spongebob
and play video games at the top of his lungs over and over and over. Even better is when he starts freaking out that the
Koen
is freaking out and both of them are in tears. I mean, moments like this will continue happening throughout my career as a Mom. So why get all worked up about it?
Since getting this mental recliner, I am a much more laid back Mom. Once I made the decision to relax a bit, my kids got cuter and less annoying. The housework (though forever daunting) didn't seem to overwhelm me so much. My shoulders aren't glued to my ears anymore. I even caught myself laughing yesterday when I discovered that I accidentally washed yet another dirty diaper in a load of laundry and not the cloth kind either. No, this was
Huggies
and do you know what happens when you wash a
Huggies
diaper in the laundry? You don't want to know.
I love my chair. It keeps me sane.