I've lost 15 pounds
since starting Weight Watchers.
Woo hoo!

To celebrate, I am sharing a recipe by delving into my
Weight Watchers five ingredient 15 minute cookbook.
That's right...
five ingredients
15 minutes,
Mommy likes!
Points
value: 6
I've made this once a week for the past 8 weeks.
It's all cheesy and yummy and warm
on the belly.
It's not exactly gourmet cooking
but it sure is good!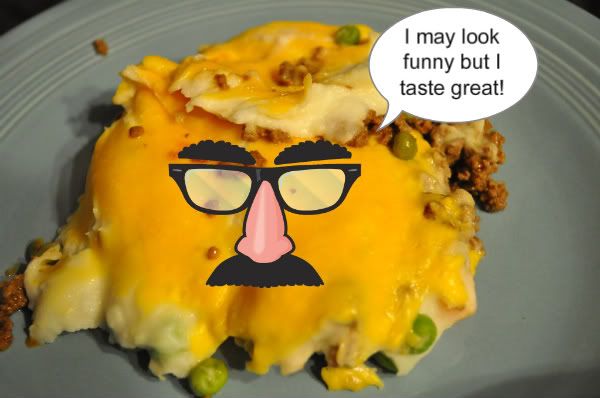 1 pound ground round.
1 cup frozen peas and carrots
1 tablespoon chili powder
1/2 teaspoon salt
1 (14 ounce package refrigerated mashed poatatoes (such as Simply Potatoes)
1/2 cup shredded reduced fat sharp Cheddar cheese
1. Preheat broiler
2.Cook beef in a 10-inch large ovenproof skillet over medium-high heat until browned,
stirring to crumble. Add frozen peas and carrots, chili powder, 1/4 teaspoon salt.
(I like to add some BBQ sauce and grilled onions. MMMMMMMMMM BBQ!) Cook 3 minutes until heated.
3. While beef mixture cooks, prepare potatoes according to package directions, using remaining
1/4 teaspoon salt.
4. Spoon potatoes evenly over beef mixture. Sprinkle evenly with cheese. Broil 2 minutes or
until cheese melts.
(serving size 1/4 of the skillet)

It's just so simple and

let me tell ya...
my man loves this recipe.
He rubs his tummy and squeezes my knee under the table
and says
"That was yummy!"

Maybe it will be lucky for you too.