I'm realizing that my days around here seem to run together.
Ordinary moments unfold around me daily
and I need to stop and relish in them.
One day, my boys will be out living life
and I will miss these everyday experiences.

So, I am taking the time to document
the simple moments that pass between us.
I'm calling this little collection of memories
The Stay At Home Mom Chronicles.

3:30 PM:

Epic Bionicile battle
Griffin is always suckering me into having some sort of battle on a daily basis.
It's so funny because I am such a girl about it.
I spend a good amount of time trying to organize how we play.
I'll say things like "Let's line up all the guys who are waiting to fight here.
Then when they get hurt they can go over to the pretend hospital on the couch
and the red Bionicile can be the doctor that fixes them."

Griffin will pretend to listen as
I try to come up with the rules for the battle
and then with no warning,
he'll just haul off and start smacking the guy
I'm holding and screaming like Braveheart.

Bionicile parts go flying across the room
and as the bloody battle unfolds
my hand usually gets smacked at some point.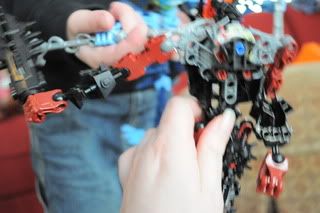 Then I squeal and throw my defeated guy across
the room in a fit of self preservation.
The battle is over as Griffin declares his win.
I rub my hand while announcing that I will no longer
be participating in these battles.

Yet, somehow my poor hand
gets suckered into it again
and again
and again.
Guess what?
I have something very exciting planned for y'all tomorrow.
Be sure to stop back by!