Once upon a time, I was a lonely girl whose boyfriend went to study abroad in Lyon, France. I was left feeling lost, listless, and scorned when he left me for a tiny Welsh girl. I just couldn't compete with that. One pivotal night when I was drinking away my sorrows with a friend, I met a girl named Erin. It was an instant connection. I wanted to be her friend so badly that I actually took my shoes off of my feet and left them in her car when she dropped me off at home so that we would have a reason to see each other again. She called me the next morning and invited me to go the flea market with her. We have been best friends ever since. Not only was she there for me during one of the most heartbreaking times of my life, but she has also been my partner in crime and we've stumbled into all kinds of trouble together.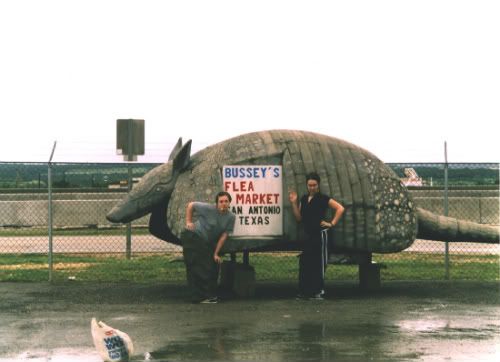 Exhibit A: White trash trip to the flea market on a road trip to my home in Texas.

It's been thirteen years since that crazy night that I met her. We have been there for each other through all of life's milestones. After College, we both moved to Atlanta and made it a point to live within ten minutes if each other. We tore that town up one happy hour at a time. Yet, we also grew up together in that time. She was my "Hair model" as I went through my apprenticeship at the salon. We each met our husbands and served as Made of Honor at each other's weddings. She was at the hospital to meet Griffin the moment he was born. She's like the sister that I've never had.
Well, in 2004, she left me for the big city of NYC. I packed up my belongings and moved to a sleepy little town down the road from Atlanta to raise my new baby . Our lives could not have been more opposite. She would call me from a rooftop party in Brooklyn and I would be changing a diaper. I would call her while Griffin napped and she would be walking through
SoHo
to go to an art opening. It was almost impossible for us to relate. Yet somehow, we managed to stay connected. We haven't seen each other at all over the last two and half years. Finances and babies have gotten in the way of travel. Yet...we still manage to talk on the phone almost everyday.
Well, I'm SO excited because she has moved back to Georgia!!! It's been five long years since we have lived near one another. Oh..and the best part is, she is pregnant with a little boy!!! Our dreams of being mothers together are finally coming true. I just can't wait to watch our boys play together. Thank God, because I was going to have a jealous fit if she was having a little girl.