I'm realizing that my days around here seem to run together.
Ordinary moments unfold around me daily
and I need to stop and relish in them.
One day, my boys will be out living life
and I will miss these everyday experiences.
So, I am taking the time to document
the simple moments that pass between us.
I'm calling this little collection of memories
The Stay At Home Mom Chronicles.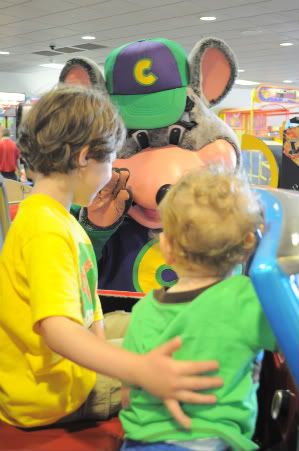 Sunday 9:00 am : Our weekend trip to Chuck E Cheese

We made this deal with Griffin that he can earn Chuck E Cheese tokens
for making "good choices" during the week. He can earn up to four tokens a day.
On the weekend (yes, just about every weekend)
he and Roger take a trip to spend up his hard earned tokens.

This reward system totally works for him.
He can be teetering on the edge of getting into trouble and all
I have to say is "Chuch E Cheese token!!"
He'll stop dead in his tracks.

We all went as a family every Sunday morning.
If you go at 9 am, no one is there
because most families are off worshipin' somewhere.
We call our Sunday morning trip going to "Chuck E Cheese Church"
because we somehow became heathens as of late.

After I had Koen, I quit going.
We tried taking Koen once and he freaked out.
It was just too noisy and crazy for a baby.
So, Daddy and Griffin would go
while Mommy and the baby stayed home.

Well...this last Sunday we all went
and Koen loved it.
It was a HUGE deal.
Griffin was so proud to show his little brother off
to all of the employees that have become our friends.

We had a great time.
Koen felt so big and scurried all over the place.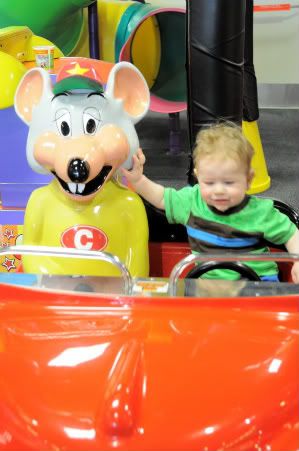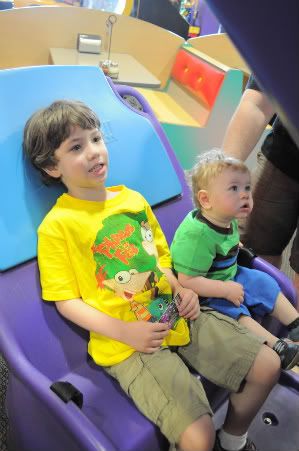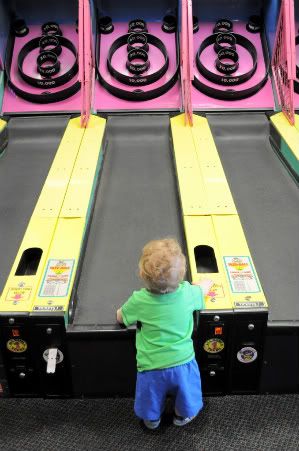 I think that it will be a weekly trip for the whole family now.

Except, I am campaigning to move it to Saturday morning.
I want to get this sweet family in church.
I have a feeling that God
doesn't hang out at Chuck E Cheese's on Sunday mornings.
He's got too many other important places to be.