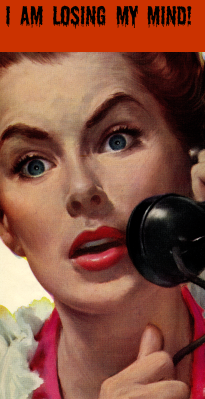 The phone rang and it was my older brother calling from Colorado. As soon as I picked up the phone and said "Hello..." Griffin grabbed a pillow and tried to start a pillow fight with Koen. I nipped it in the bud and tossed Griffin into "Time out" so that I might get a moment to actually have a conversation with my brother. It's become more and more challenging for me to talk on the phone. Koen has given up his morning nap and Griffin turns into a desperate court jester in need of attention the second that he hears the phone ringing.

With Griffin sulking in time out, I set out for at least a 5 minute conversation. About 30 seconds into it, I see Koen climbing up the shelves of his pretend refrigerator and attempting to climb to the top of his Little Tykes kitchen. I scream "KOEN...NO!!!" as the entire play kitchen starts to topple on top of him. I run like a bat out of hell across the room and catch it just in time. My bother says "Okay, you have your hands full, call me back." I mumble about my life being way too insane as we hang up.

Something about that particular moment sent me over the edge. It was caused by a nasty case of summer burnout. The daily grind of taking care of two energetic boys finally took it's toll and I was holding on by a thin thread. I mean, I was deeply insulted by the fact that I couldn't even have a flippin' phone conversation without my home being turned upside down by my kids.

I grabbed both of the boys and ventured outside to our yard that is basically a jungle. My husband hasn't mowed since God knows when. There were weeds, mosquitoes, and yellow jackets all around us. Do you think that I cared? I placed a shovel in Griffin's hand and told him to dig a hole as I nudged him toward a pile of mud and rocks. I handed Koen a stick and showed him how to smack the tree with it. I then proceed to plop down into a pile of weeds and cry my eyeballs out. Yellow jackets swarmed and flew about as I sobbed. The boys became concerned and tried to hug me with grubby little fingers. This made me cry harder. Can't a woman even cry in peace?

Mommy needs a trip the spa or at least a trip to the potty by myself. I'm shocked that I made it 43 days into summer until I had a good old fashioned nervous breakdown. Only 34 days until school starts again and I'll regain my sanity.