The assignment for You capture was
America
.
What's more American than a yummy dessert
to eat as you celebrate Independence Day with friends and family?
I found a recipe in a 1958 issue of Ladie's Home Journal.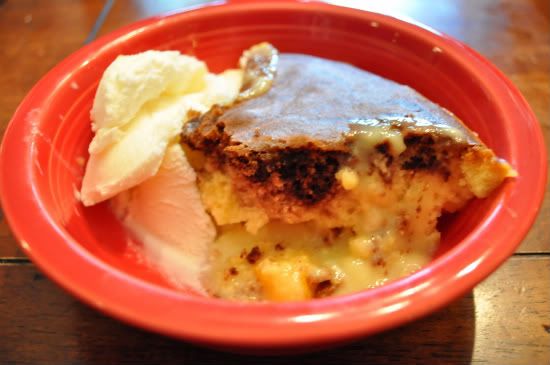 Peach Casserole with Marble Cake Mix.
I just love the recipes of the 1950's.
Those ladies loved to toss just about anything into a casserole dish
and then stick it in the oven.
I decided to strap on my apron
and give the recipe a try that I spied
in a Betty Crocker ad.
If it involves making a cake from a box
then I am willing to grab my mixer and mix it up.
I'm not too proud.
I made this for two different 4th of July celebrations
and both times it was a smashing success.
Here is the oh-so-easy recipe.
Peach Casserole with Marble Cake Mix
Spread 1 Package prepared vanilla pudding in ungreased
13x9 pan or shallow 3 qt casserole dish.
Arrange canned, drained, sliced peaches over pudding.
Pour cake batter over peaches.
Bake for 60 minutes at 350 degrees.
Serve warm or cold with whipped cream.
Makes 15 to 18 servings.