When my grandma (Mammaw, as we affectionately called her) passed away in in 2004, I inherited a ton of her beloved antiques. I mean, my house is full of Mammaw's stuff. Sometimes, when I return home from a trip and open the front door to my home, it smells just like Mammaw's house used to smell. It smells like hush puppies being fried up in the kitchen. It smells like french fries cooking in hot grease and love.

You cannot sneeze in my house without hitting a piece of carnival glass that was passed down to me. Well, in an effort to de-clutter my home, I have decided to part with a few of her heirloom porcelain pieces. I would be emotional about this but I can just hear her now saying... "Tooper,(which is what she affectionately called me) you should sell some of that stuff instead of keeping it around. You sell that butter dish and go buy yourself some mascara, ya look a little tired." Then she'd pinch my side and wink.

So...I've listed some items on Ebay. I thought that I would pass this along in case one of y'all might be thinking "I'd love to buy my mom an antique wash basin." or "Aunt Trudy would love a three piece vanity set for her birthday." Maybe you're thinking "Gee, I'd love a World War II Japanese transfer glass butter dish!" Well, look no further!

Here is what I have to offer...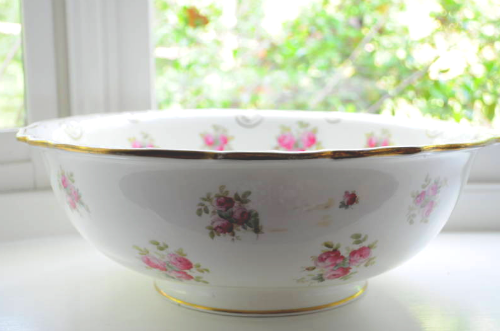 Antique Cauldon Ware wash basin...to bid click
here
.
Antique three piece vanity set, click
here
to make a bid!
Pretty butter dish, click
here
to bid on this beauty!
Now, go call your Aunt Trudy and tell her all about it!