My holiday cards from Shutterfly have arrived
and I truly love them!
Remember these beauties that I told you about?
My friends and family will be so proud that they know us
once they get one of these shiny new cards in the mail.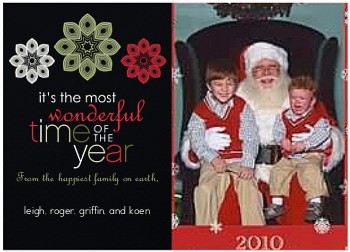 Retro Kaleidoscope Holiday Card
I also love the love that Shutterfly gives Bloggers.
Check out their latest promotion!

Help us spread the word. Embed project and receive a $25 gift certificate.

Here's how:
Embed your project on a blog or Web site you own. Email an active link (no screenshots, please) to the Web page containing your embedded project to: shareproject@shutterfly.com. We will confirm placement and reply to your email with a discount code.The offer is only available to individuals embedding the Shutterfly widget on their website or blog. Offer ends January 31st, 2011 (11:59PM PST). Promotional codes provided are valid until February 15, 2011 (11:59PM PST) and valid for one-time redemption per qualifying order per member.


Now scroll on down to play Freakshow Friday!