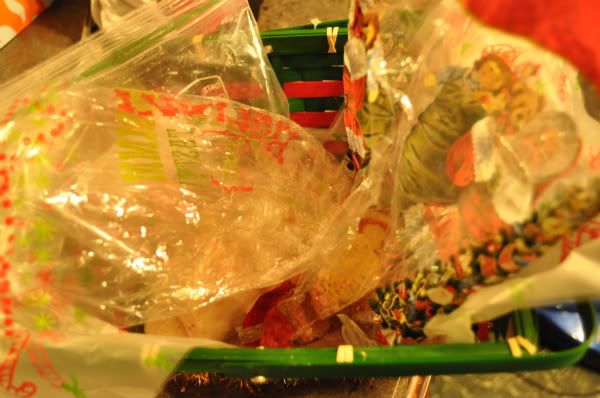 I had big plans for this post.

Last week I went to the annual cookie exchange
at my mom's best friend's house.
There were so many scrumptious cookies made by seriously southern women
and I intended to photograph the beautiful cookies and include recipes
but...we ate almost all of them before I had a chance to grab a photo.
So, you'll just have settle for a picture of the empty basket
full of abused wrappings that was once overflowing with cookies.

Also, I'm feeling lazy (probably from eating so many damn cookies)
so I've decided to just share the recipe
for the cookie that disappeared the fastest.
It is oh so gooey and yummy.
Enjoy and sorry that I don't have a photo of said cookie.
They sure were good when I ate them all up uncontrollably.

OATMEAL CARMELITAS



1 3/4 c. Quaker oats
1 1/2 c. flour
3/4 c. brown sugar, packed
1/2 tsp. baking soda
1/4 tsp. salt
3/4 c. butter, melted
1 c. nuts, chopped
1 (6 oz.) pkg. chocolate chips
1 (14 oz.) bag caramels
1/4 c. water



Heat oven to 350 degrees. Grease a 9 x 13 inch pan. Combine first five ingredients. Add butter, mix until crumbly. Reserve 1 cup for topping; press remaining mixture onto bottom of pan. Bake 10 minutes; cool. Top with nuts and chocolate chips. In saucepan melt caramels and water, stir until smooth. Remove from heat and drizzle over bars, sprinkle with reserved topping mixture. Continue baking 15 to 18 minutes or until lightly brown. Cool. Cut into bars, store tightly covered in cool, dry place.
In other news...

Koen pointed at my belly this morning and said "ball?"