I had a brilliant idea last week.
Roger and I escaped to my
Father-in law's plantation for New Year's Eve,
just the two of us!
We left the boys at my parents' house for the weekend.
I would say that it was the smartest idea I've had in 2011
but the year just started so
I am going to say that it was my last good idea of 2010.
Now, before you go imagining Scarlet O'hara and hoop skirts,
it's not that kind of plantation.
Here in Georgia, a plantation is just another name for a whole lot of land.
The property is really a hunting preserve
with a gentleman's cabin for the hunters to sleep in.
It looks a little creepy but it's really quite charming.
I put on my "rugged gear" which really consists of my
polka dot rain boots for wandering in the mud.
Roger grabbed his gun and off we went in the "Bad boy" to explore the woods.
With 2700 acres, we always find something new.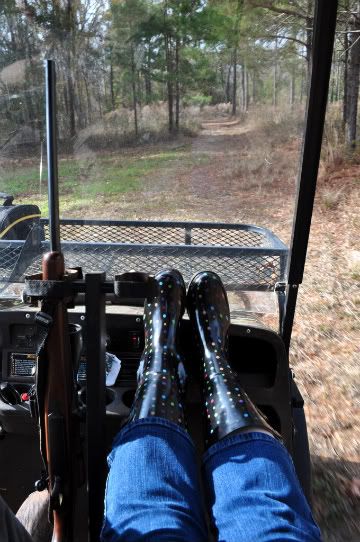 Although, we do have our favorite spots to visit.
I just love this old tree with the Spanish Moss.
It's at the beginning of our journey and I always feel like
it is greeting me as the moss sways in the wind.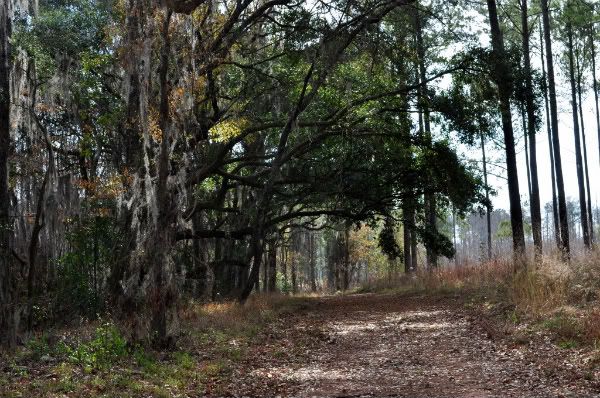 Then there is the "Buzzards' roost" which always looks ominous.
It looks even more ominous in the evening when the buzzards roost there.
I prefer to visit this spot in the light of day, thank you very much.

I always enjoy the path that is lined with Pine trees.
The tops of the trees almost create a path against the sky
that echoes the path on the ground.
I love to look up with the wind blowing across my face
and get all twisted as we speed along the path.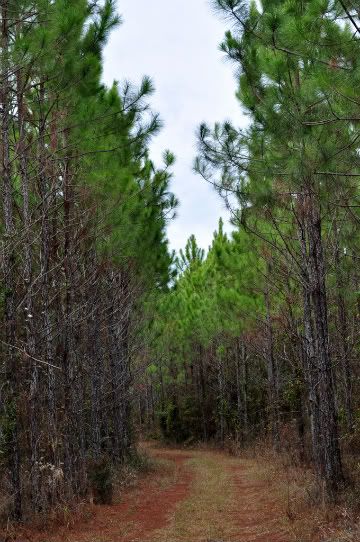 This old tree always looks so wise to me.
I love to pass by and admire it.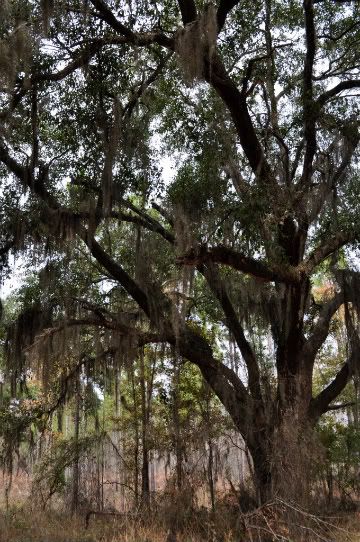 Later that day, it began to rain
and continued to rain all night and into the morning.
The pitter pat of the rain against the metal roof was so relaxing.

We cooked a great meal, drank wine, and listened to good music.
We talked about our hopes for 2011.
I'm actually really happy that it rained,
it's the perfect excuse to stay inside and snuggle.

When we woke up the next morning,
the world was soggy and the pond by the cabin
looked drenched and sleepy.

It was such a great way to ring in the new year.
One of my resolutions is to spend more time with Roger
so I thought that this trip would be the perfect setting
to say goodbye to 2010
and hello to 2011...

with my love by my side.