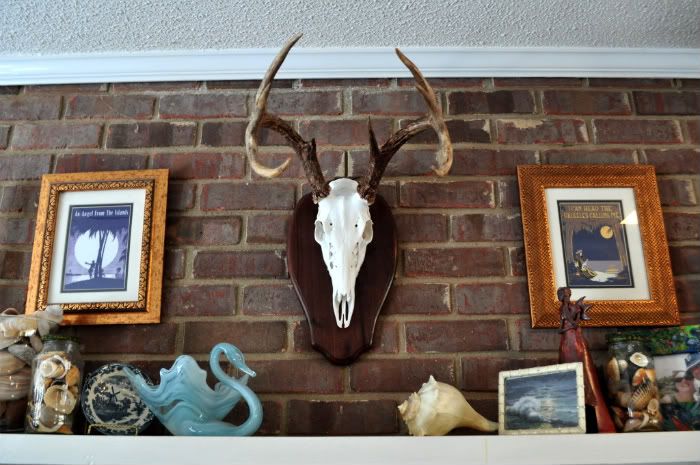 My husband recently had a very successful hunting trip during deer season.
He shot 5 deer and came home a proud papa.
We have a freezer full of meat
and a beautiful new European mount of the
eight point buck he came home with.
I really think that it looks wonderful perched above our fireplace.

I never would have imagined that I would fall in love with a hunter
and well, I honestly didn't, since Roger started hunting after we were married.
I was always against hunting as a young girl
(who wasn't traumatized by Bambi?)
but I am now seeing it in a different light.

The thing is, I love knowing where our meat comes from.
You cannot get more hormone free than a deer found in the wild
and it's so much more humane than the factory raised meat
you can buy at the grocery store.
I don't buy any meat anymore,
we only eat what Roger brings home.

My father-in-law harvests and protects the deer
at the Plantation where Roger hunts.
I know that it sounds crazy to protect animals and then kill them
but there is a profound respect for nature.

I know that Roger feels a deep satisfaction
knowing that he provides food for his family
Every time I look at that mount
I feel proud of my hunter-gatherer husband.

There is something very primal in the hunt.
There is something spiritual about the sustainability
of the food chain.

I amaze myself all the time
as I start to have new perspectives on hunting.
Thank God because if I was against it,
I could just see myself at marriage counseling,
crying on a therapist's couch
while Roger sat next to me
and polished his rifle.