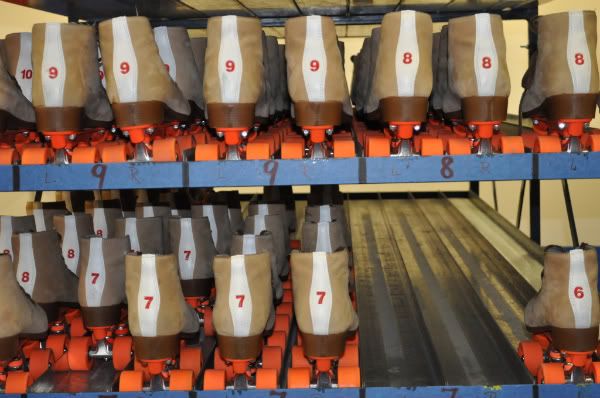 I felt confident as I strapped on my skates and embarked to the rink.
It had been about ten years since I last skated
but that didn't matter...
remember, I'm the queen of the rink.
Suffering from delusions of grandeur,
I was taken off guard to discover that
as I glided out into the crowd I felt a bit wobbly.
I tried to play it off and look awesome.
I'll just go ahead and tell you that I failed miserably.
I slowly shuffled my feet to get my groove back when
out of nowhere, a crew of what looked to be seven year old kids
came whizzing up behind me
and I squealed like a little girl.
Before I had a chance to recover,
a posse of pre-teen girls rounded the corner
and nearly knocked me over.
I spun in a circle while spinning my arms to keep my balance.
Just as my skates got beneath me,
a bratty kid barreled past and gave me the stink eye.
It was terrifying.
I made a run for the safety of the carpet.
There I met with Griffin who felt pretty awesome
in his roller skates.
This was his first attempt at skating and
he did great on the carpet as he sped around.
I dropped my cool facade and just enjoyed watching Griffin
experience something new and exciting.
We even braved the rink and skated around hand in hand,
falling all over one another and laughing our faces off.
Griffin looked over at me
in the glow of the disco light
as if I was the coolest Mom on roller skates.
Suddenly, just as quickly as I had been run off the rink,
I knew that I was still the queen of skating.