We have a winner for this week's installment of Freakshow Friday. Please take note that my super hilarious and non biased best friend was the judge. Here are the top three in no particular order.
She is MY sister! Get your own!!


Karen Mortensen
Sumo wrestling gone bad.
Momma Fargo
Mass Destruction

Just Jen
is the funniest blogger in all the land.
Now head on over to her blog
and marvel at this fantastic award she just earned
to proudly display forever.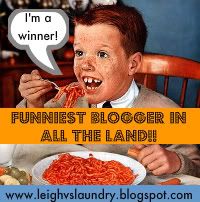 Thanks to all the people who played.

Tune in this Friday for another instalment of Freakshow Friday!