I'm inviting romance into my life
one Friday Night Date at a time
and documenting each one here on my little ol' blog.

I want to remember every detail
of these splendid home spun dates.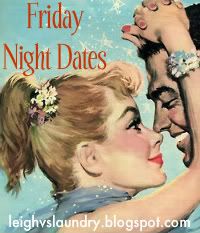 Date #20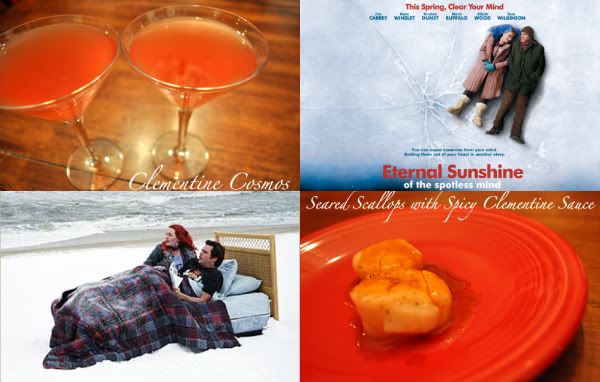 This date almost didn't happen.
The kids resisted bedtime,
we couldn't find the DVD in our collection,
and it was getting pretty late.
We pushed through
and it ended up being one
of the best dates yet.
As we watched the tumultuous
relationship of two lovers unfold,
Roger looked over and said
"I'm so glad that you're not crazy."
I'll take that as a huge compliment.
Here are the recipes...
Seared Sea Scallops with Spicy Clementine Dipping Sauce
Ingredients
* 4 cups fresh-squeezed clementine juice or orange juice
* 2 teaspoons ancho chile powder
* Finely grated zest and juice of 1 lime
* 6 tablespoons (3/4 stick) butter , cut into 8 pieces
* 1/2 cup extra-virgin olive oil
* 40 large sea scallops , patted dry
* Salt and freshly ground pepper
Directions
In a medium saucepan over high heat, bring clementine juice, chile powder, and lime zest and juice to a boil. Reduce heat and simmer 1 hour; mixture should be thickened and syrupy.
Remove from heat and whisk in butter, one piece at a time, until incorporated.
In a large skillet over a high flame, heat 2 tablespoons of olive oil until smoking. Season scallops with salt and pepper. Cook 10 scallops 1 to 2 minutes per side, until dark golden brown. Remove to paper towels and drain. Repeat with remaining oil and scallops in 3 batches. Serve scallops hot with warm sauce.
Clementine Cosmos
Ingredients

* 3 clementines, plus 1 very thinly sliced, for garnish
* 1 cup sugar
* 1 cup water
* 2/3 cup cranberry juice
* 1/3 cup lime juice
* 1 1/2 cups vanilla flavored vodka (recommend: Grey Goose

Directions

Cut the clementines into quarters and squeeze their juice into a saucepan. Add the sugar, water and clementine flesh and bring to a boil over medium heat. Reduce the heat and simmer the mixture for 5 minutes. Pour into a strainer set over a measuring cup, pressing on the solids to remove as much liquid as possible. Discard the solids, cool the liquid to room temperature and pour into a pitcher. Add the cranberry juice, lime juice and vodka and stir well. Refrigerate until ready to serve. Put 6 or 8 martini glasses in the freezer.

To serve, pour the mixture into an ice-filled cocktail shaker and shake until very cold. Pour into the chilled martini glasses and garnish each with a clementine slice. Drink up and enjoy!
What about you? Did you find romance?