I'm inviting romance into my life
one Friday Night Date at a time
and documenting each one here on my little ol' blog.

I want to remember every detail
of these splendid home spun dates.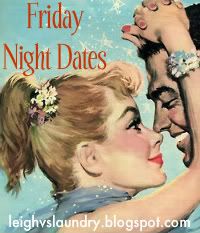 Date #21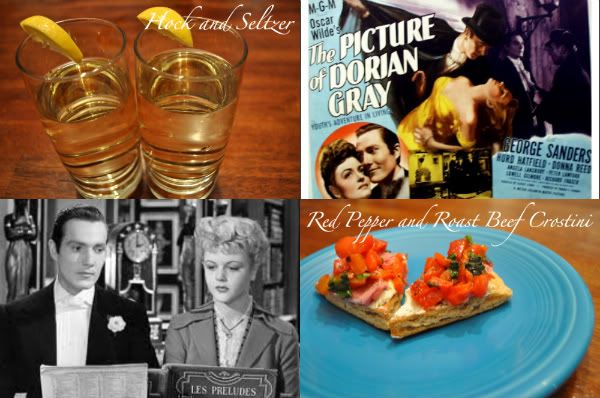 We easily found ourselves swept away
into the strange world of Oscar Wilde.
The Hock and Seltzer was a drink
that Mr. Wilde enjoyed often in Paris.
He had good taste
because it really added
to the romance of the evening.
Here are the recipes...
Roasted Red Pepper and Beef Crostini
1 bottle roasted red peppers, drained and chopped
1/2 cup finely chopped basil
1 tablespoon olive oil
1/4 teaspoon salt
1/4 teaspoon freshly ground black pepper
48 slices baguette
olive oil cooking spray
1 container light Alouette
1/2 pound shaved deli roast beef
Directions
1. Preheat broiler
2. Combine first 5 ingredients in a bowl; stir well
3.Coat both sides of bread slices with cooking spray. Place half of the bread slices in a a single layer on a large baking sheet. Broil 1 1/2 minutes on each side. Repeat with remaining bread.
4. Spread 1 tablespoon cheese over 1 side of each bread slice. Divide beef evenly , top each with 1 teaspoon bell pepper mixture.
Fill tall glass half way with Reisling
Top other half with seltzer
Enjoy!
Did you find romance over the weekend?