I'm inviting romance into my life
one Friday Night Date at a time
and documenting each one here on my little ol' blog.

I want to remember every detail
of these splendid home spun dates.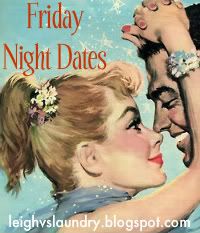 Date #24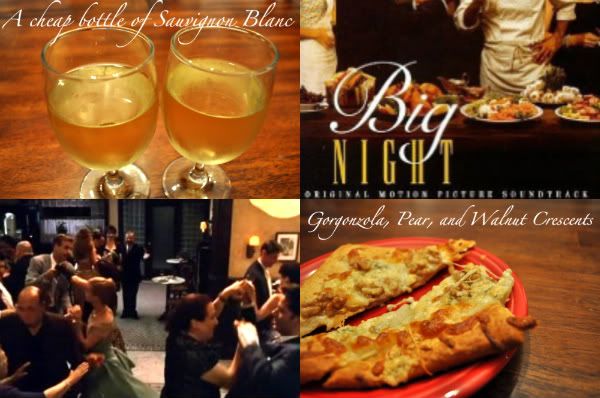 When I watch the film Big Night
it makes me want to
cook yummy food,
dance the night away,
drink fine wine,
and enjoy the best things in life.
So we did just that,
without the dancing.
It was a fantastic night!
Here are the recipes...
Pear, Gorgonzola, and Walnut Crescent Pizza
* I package crescent rolls
* 4 ounces sliced provolone cheese
* 1 Bosc pear, thinly sliced
* 2 ounces chopped walnuts
* 2 1/2 ounces Gorgonzola cheese, crumbled
* 2 tablespoons chopped fresh chives

Directions

1. Preheat oven to 450 degrees F (230 degrees C).
2. Place crescent roll dough on a medium baking sheet. Layer with Provolone cheese. Top cheese with Bosc pear slices. Sprinkle with walnuts and Gorgonzola cheese.
3. Bake in the preheated oven 8 to 10 minutes, or until cheese is melted and crust is lightly browned. Remove from heat. Top with chives and slice to serve.
I found the cheapest bottle of Sauvignon Blanc at Walmart.
It was $2.97 to be exact.
Sometimes the cheapest bottles are the best.
Did you find romance over the weekend?