I'm inviting romance into my life
one Friday Night Date at a time
and documenting each one here on my little ol' blog.

I want to remember every detail
of these splendid home spun dates.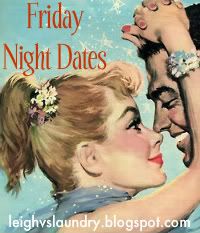 Date #
31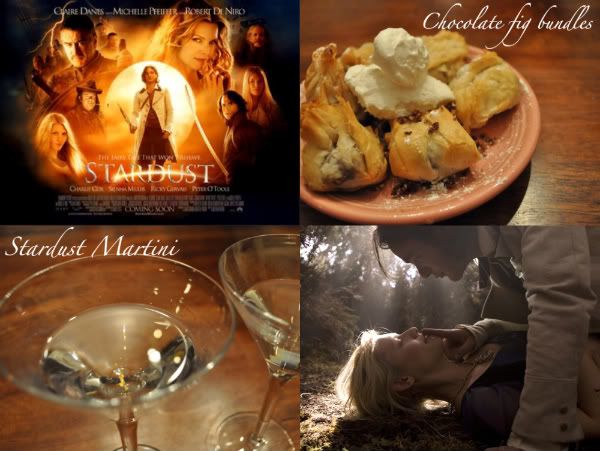 Stardust is such a dreamy film...
watching Claire Danes glow when
the two dance made me glow for my man.

It was a sweet and delectable evening.
Stardust Cocktail
INGREDIENTS
4 parts Vodka
1 part Crème de Cacao
1 Bottle of Goldshlager
Cocktail shaker and cracked ice
METHOD
Pour first two ingredients into a cocktail shaker have full of cracked ice. Shake and strain into a glass. Slowly pour in a small amount of Goldschlager and watch as a snowstorm of golden stars drifts down.
Ingredients
3/4 cup butter, softened
3/4 cup granulated sugar
1 tablespoon baking powder
1/4 teaspoon salt
1/4 cup milk
1 egg
1 teaspoon vanilla
3 1/2 cups all-purpose flour
2/3 cup dried figs, snipped
2/3 cup chopped pitted dates
1/3 cup pine nuts
1/4 cup raisins
1 teaspoon finely shredded orange peel or lemon peel
3 tablespoons orange juice
1/2 teaspoon ground cinnamon
1 egg
1 tablespoon water
Coarse sugar
Directions
1. In a large bowl, beat butter with an electric mixer on medium to high speed for 30 seconds. Add granulated sugar, baking powder, and salt. Beat until combined, scraping side of bowl occasionally. Beat in milk, 1 egg, and vanilla until combined. Beat in as much of the flour as you can with the mixer. Using a wooden spoon, stir in any remaining flour. Divide dough into fourths. Cover and chill for 30 minutes.
2.
For filling:
In a food processor, combine figs, dates, pine nuts, raisins, orange peel, orange juice, and cinnamon. Cover and process with several on/off pulses until chopped.
3. Preheat oven to 350 degrees F. Lightly grease a large cookie sheet; set aside.
4. On a lightly floured surface, roll out one of the dough portions to an 1/8-inch-thick rectangle. Using a fluted pastry wheel, trim dough to a 10x8-inch rectangle. Cut with the fluted pastry wheel into 2-inch squares. Place half of the dough squares on prepared cookie sheet. Spread 1 slightly rounded teaspoon of the filling onto the center of each square on cookie sheet. Using a small sharp knife, cut an "X" on top of each remaining dough square. In a small bowl, combine 1 egg and the water. Brush some of the egg mixture on edges of squares with filling. Place cut squares on top; press edges together to seal. Brush tops with egg mixture and sprinkle with coarse sugar.
5. Bake in the preheated oven for 12 to 15 minutes or until golden brown. Transfer cookies to a wire rack; let cool. Repeat Step 4 with the remaining dough portions and bake as directed. Makes about 40 cookies.
Did you snuggle up to your sweetie over the weekend?