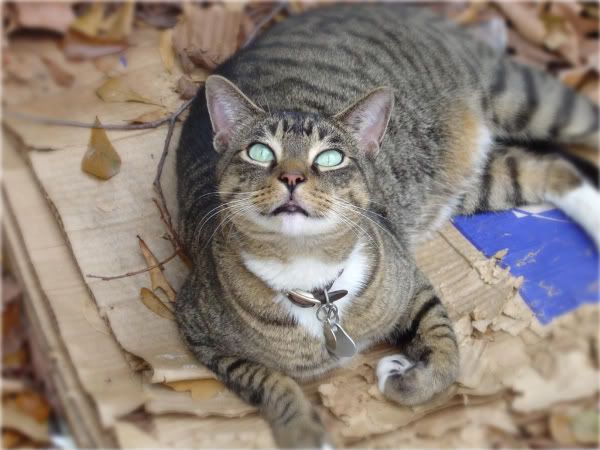 Long ago, I once had a cat
named Cowboy that was my soul mate.

He was a loyal little scamp that loved his freedom

but always came home to snuggle and purr in my lap.
He was hilarious, and I swear that
if a cat could laugh
that we shared more then one
inside joke together.

So, I was devastated when he mysteriously died
in my front yard, seven years ago.
I miss him all the time.
He was so independent that people
were always trying to claim him,
but he knew where his heart belonged.

I always heard stories of him sleeping in
my neighbor's beds at night
or snuggling up on the couch with them
while they watched TV.

The neighborhood kids
would dress him up in doll clothes.
Everybody loved Cowboy.

So, I made a little tag declaring my love for him
and they
always clinked together when he ran home.

The other day, when I was cleaning out my closet,

I found the tags that once dangled from his collar.

I attached it to my key ring
and now when I drive over bumps
in my car, the tag clinks against the keys.
I love that little noise...
the same happiness washes over me
as it did when I could hear him scampering home.
It's such a gift.
I also found his water bowl
that a dear friend made for him long ago.
It has a crack but still works just fine.
So, I gave it to my two cranky cats,
Atticus and Scout.
Whenever I step out onto my porch,
I see it there and it makes me so happy.
To see Scout tower over it and claim
Cowboy's bowl is a super sweet sight.
He's still here in spirit.
Remembering him daily brings me so much joy.