Griffin attended Stop Motion Animation Camp
at our very favourite place to learn and play,
Treehouse kid and craft.
He and a friend made this great
late breaking
2 minute news report about the
Colorado wild fires.
This is investigative reporting at it's finest.
The boys worked really hard
and did all the set design and filming themselves.
They even did all the research too.
I'm a proud mama of my little film maker!
It makes me happy to see his
awesome creativity take root.
Who knows, maybe he'll be the next Steven Spielberg?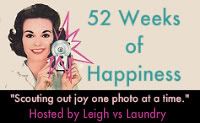 Want to join me in my quest
to scout out happiness for a whole year?
Simply post a photo of something that
makes you wildly happy and tell us all about it.
Then, steal my button and include it in your post.
Don't forget to link up to Mr. Linky.