I'm inviting romance into my life

one Friday Night Date at a time
and documenting each one here on my little ol' blog.

I want to remember every detail
of these splendid home spun dates.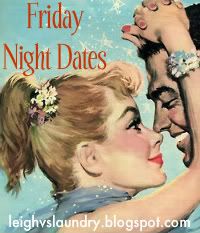 Punch Drunk Love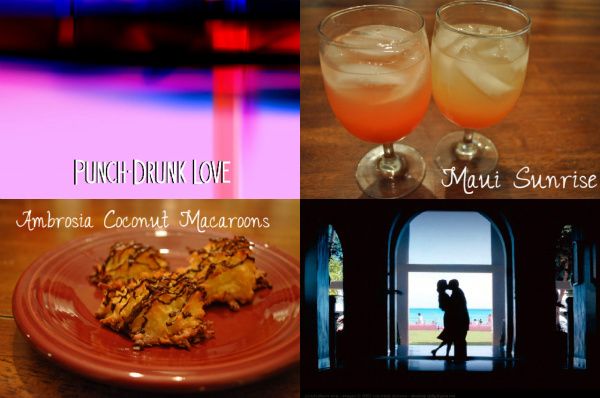 We are back in business, people!
Friday Night Date is back
and not a moment to soon.
The mister and I missed it so much.
We watched the film Punch Drunk Love.
This film is so awkward and sweet,
sometimes it's hard to watch
and then a moment later
it's just so touching and almost classic.
Here are the recipes...
Glutenista Maui Sunrise:
Gluten-Free Vodka
Orange Juice
Sprite
Grenadine
Splash of Cream
Ambrosia Macaroons
1/2 cup (1 stick) unsalted butter, room temperature

2 teaspoons finely grated orange peel

24 ounces sweetened flaked coconut (about 6 cups firmly packed)

6 ounces bittersweet chocolate, melted






| | |
| --- | --- |
| | Position rack in center of oven; preheat to 325°F. Line 3 large rimmed baking sheets with parchment. Using electric mixer, beat butter in large bowl until smooth. Add sugar and salt; beat until blended. Beat in orange peel, then eggs, 1 at a time. Mix in coconut. Drop batter onto sheets by tablespoonfuls, spacing 1 1/2 inches apart. |
| | Bake macaroons, 1 sheet at a time, until golden on bottom and browned in spots, 25 to 30 minutes. Cool completely on sheets. |
| | Using fork, drizzle chocolate over macaroons. Chill on sheets until chocolate is firm, about 30 minutes. |