Oh the fun to be had at the pumpkin patch.
We took our 2nd annual trip over the weekend
and have officially decided that we will return every single year
until the kids turn into surly teenagers and refuse to go.
There's a super duper fun hayride,
a huge bouncy pillow
where you can get some major air,
a vortex tunnel that makes you feel dizzy and alive,
a huge corn maze,
(we got lost and just cheated and escaped through the corn)
pig races,
pig noses,
a cow train,
and awesome memories!
P.S. Let's all lift up prayers for our northeastern friends!
Stay safe out there!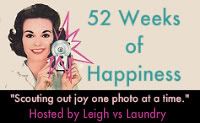 Want to join me in my quest
to scout out happiness for a whole year?
Simply post a photo of something that
makes you wildly happy and tell us all about it.
Then, steal my button and include it in your post.
Don't forget to link up to Mr. Linky.