I just love Christmas Eve.
After the kids are alseep
and we wrap presents together.
I love imagining how they'll react when they open each gift.
I love making the tree look magical.
Merry Christmas!
Enjoy the celebration and
be sure to come back and link up
your happy Christmas posts here.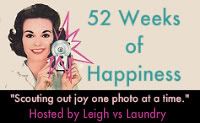 Want to join me in my quest
to scout out happiness for a whole year?
Simply post a photo of something that
makes you wildly happy and tell us all about it.
Then, steal my button and include it in your post.
Don't forget to link up to Mr. Linky.