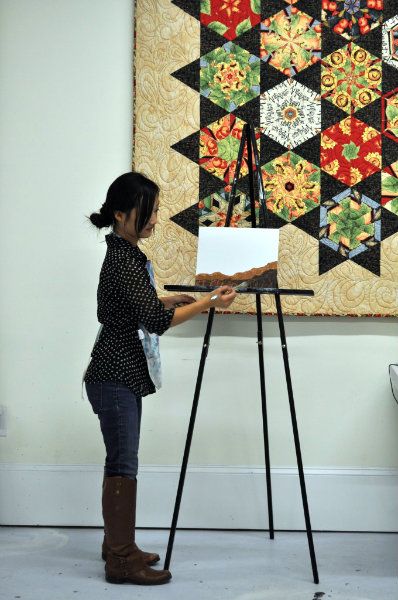 I had a night out with the the girls and we
went to a Friday Night Masterpiece class.
Basically, it's a painting class that requires little to no talent
because an instructor walks you through the painting step by step.
Sounded good to me.
The best part is that you
can drink cheap wine out of a Styrofoam cup while
you create art.
I instantly become a better artist
after a few sips of wine.
I was a little worried at first
because my painting pretty much looked like poo
from the get go.
But I persevered and decided to just go with it.
It was pretty funny to see how we all responded to the instructions.
It was like a little glimpse of what we must've been like in high school
Some took it really seriously and listened intensely,
making sure to follow every step perfectly.
Then there were those like me
that spent the whole time
alternating between self deprecation and smart ass comments.
In the end, my "masterpiece"
looked like a blind and drunk mouse with
no fingers painted it.
That's okay though,
I still had fun unleashing my inner artist
with my awesome friends.
I'll do just about anything to get out of doing bedtime with the kids.