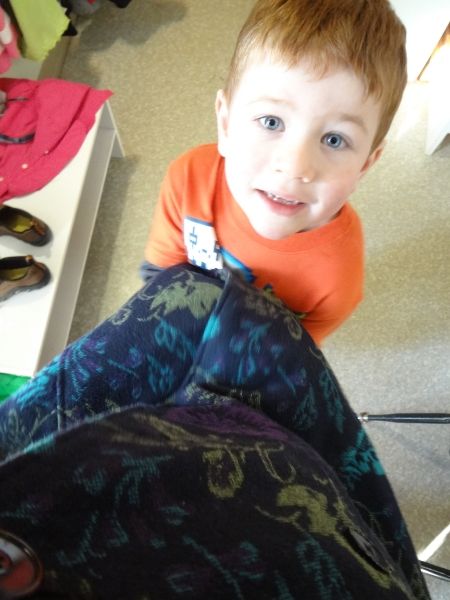 Koen and I have the sweetest morning ritual
that unfolds when I drop him off at school.
After he hangs his jacket on his hook,
he marches over and tugs at my coat
then looks up at me with
his big blue eyes and says
"Kiss me, mama?"
I crouch down and he slips
into my arms
and we hug
and we kiss
and we hug
and we kiss.
We do this for at least 3 minutes.
Then I head for the door
and he follows me,
tugging on my coat once again and says
"Just one more kiss, mama?"
So I lean over him
letting my hair fall around his face
and I shake my head
so that my hair tickles him.
We laugh and kiss again.
Then I open the door
and he scampers close behind
grabbing my coat again.
"How about a big hug?"
he asks.
So I reach down and pull him close to me
until he teacher walks over and takes his hand.
"Come help me feed the fish." she says
and he slowly steps back
waving and blowing kisses as
I back out of the room.
The door shuts behind me
and he stands in the window,
waving at me until I'm out of sight.
It's the sweetest thing ever.
The other day his teacher said
"I hope that when I have children one day
that they will love me as much as he loves you."
I'm one lucky mama!
I'll forever treasure our
long goodbyes.