The boys are starting to actually play together every now and then.
I'm sure that you can imagine the running commentary
that takes place between a 5 year old and a 9 month old.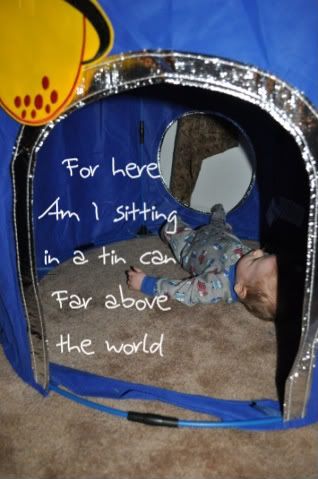 Okay, so admittedly, those were clearly the lyrics to David Bowie's Space Oddity.
Really it went something like this...

Griffin
: "Five, Four, (No Koen, quit grabbing my shirt!) Three, Two, One, BLAST OFF!"

Koen
: "Blarg goo goop."

Griffin
: "Okay, so you're an astronaut and... KOEN, QUIT TRYING TO ESCAPE!"

Koen
: "b boo bah bah?"

Griffin
: "MOM, KOEN IS TOO LITTLE TO PLAY AND HE"S RUINING MY SPACE FLIGHT!"
(Griffin storms out of spaceship while Koen sprawls out and takes over the joint.)
THE END
.