I'm realizing that my days around here seem to run together.
Ordinary moments unfold around me daily
and I need to stop and relish in them.
One day, my boys will be out living life
and I will miss these everyday experiences.
So, I am taking the time to document
the simple moments that pass between us.
I'm calling this little collection of memories
The Stay At Home Mom Chronicles
.
10:00 am : Snack time and grand conversations.
Every morning, while Griffin is at school,
and after Koen's morning nap,
Koen has a snack in his high chair.
While he is snacking we have some
precious one on one time.
We have a little morning routine that I always look forward to.
It's a simple routine that I also
did with his older brother Griffin when he was a toddler.


While he feasts on a Granola Bar and Apple Juice,
I am in the kitchen unloading the dishwasher.
As I grab various plates and utensils to put them away,
I do a running commentary for Koen about what I am doing.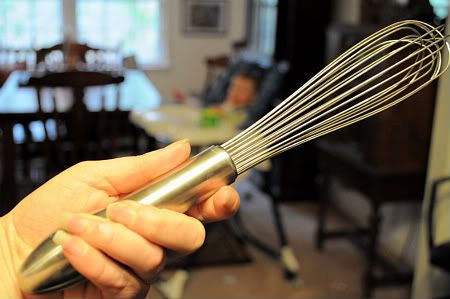 I'll say "This is a whisk and it's a handy tool in the kitchen."
He'll respond "Boo a gah isk?"
Then I'll say "Good...that's right, it's a whisk and you use to beat eggs."
Then he'll start singing something like
"Doo dwa ooh boo ah lah!" at the top of his lungs.
Then we both laugh.

I think that only a one year old
would find these types of conversations fascinating.
I have his undivided attention as I talk to him
about measuring cups, sauce pans, bowls, etc.
He works hard to echo my sounds and
I am quick to draw the language from him.

It's not an extraordinary moment at all
but one that I hold close to my heart.
A day will come when he will be too busy
running past me to play with Griffin
as I say "This is a fork!"
and he'll roll his eyes
and say "I know that Mom!"

Until then, I will enjoy
the simple pleasure of standing
in the kitchen and talking about utensils
as he looks on in utter amazement.