I'm realizing that my days around here seem to run together.
Ordinary moments unfold around me daily
and I need to stop and relish in them.
One day, my boys will be out living life
and I will miss these everyday experiences.
So, I am taking the time to document
the simple moments that pass between us.
I'm calling this little collection of memories
The Stay At Home Mom Chronicles
.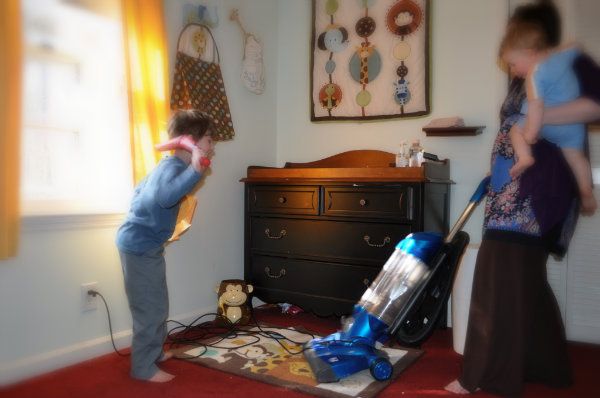 2:30 pm: Vacuuming the house with a crazy entourage



Wherever my vacuum roams, madness follows.
Both of my children have an interesting
relationship with the the vacuum cleaner.

Griffin has always loved it.
The only way that he could fall asleep
when he was a baby was to the sound
of the vacuum cleaner running.

My husband actually recorded the sound for him

and the tape would lull him to sleep nightly.


Now, he loves to taunt it with various Baseball Bats.
That means that if I'm vacuuming,

Griffin is chasing us around the house
laughing and screaming and wacking it with a bat.

It makes him so terribly happy that I let him get away with it.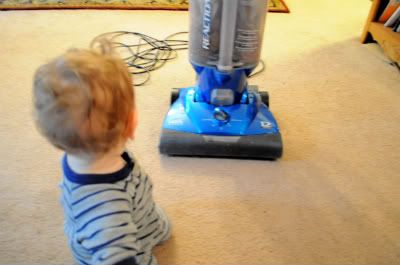 Then there is sweet little Koen
who is terrified of the vacuum cleaner.
Which means that if I am going to vacuum
that he is going to be on my hip.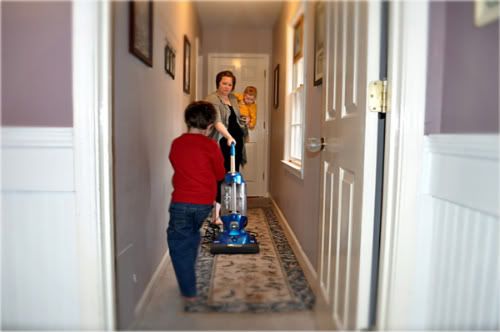 So, the three of us float around the house as the vacuum roars.
Griffin circles us with glee, lunging, attacking
,
and howling with laughter.
Koen holds on for dear life perched on my hip
with a perplexed look on his sweet face as Griffin attacks this large loud machine.


It's an insane ritual that I will always cherish.