I'm realizing that my days around here seem to run together.

Ordinary moments unfold around me daily
and I need to stop and relish in them.
One day, my boys will be out living life
and I will miss these everyday experiences.

So, I am taking the time to document
the simple moments that pass between us.
I'm calling this little collection of memories
The Stay At Home Mom Chronicles.


Saturday 3:45 pm : Attempting to go to the Movies.
Over the last weekend we decided to take Griffin
on a little date to see the film How to Train Your Dragon in 3D.
We don't have a great track record when it comes to the movies.
We have walked out of every movie we have ever
attempted to see within moments of walking in.
Griffin swore up and down
that he was old enough now.
So...we dropped Koen off at my Mom's house
and headed to the theatre.
It was a big deal.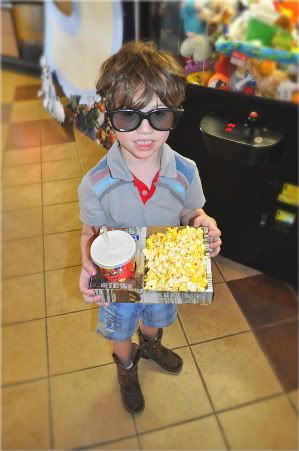 (Griffin before the movie)
There was excitement in the air and Griffin
felt so big and proud to get his very own
3D glasses, popcorn , and Sprite (which he never is allowed to drink).
We handed him the money as we waited in line and
he "paid" for us to get in.
We also handed him the tickets and he handed them to the
employee to tear as we walked into the lobby.
He even ordered his own snack at the concessions stand.
I could tell the he felt proud of himself
for being given so many adult tasks.
We headed into the theatre
well, I went in first to watch the previews
and then promised to come and get him and Dad
when the movie started.
Thank God because they showed the preview
to M. Night Shymalan's new movie
which looked scary as poo.
Anyway...Griffin filed into his seat as the movie started.
He freaked his freak!!!
It was too loud, too dark, and just too PG for him.
He announced that he was tired
and curled up in a little ball with his eyes closed
and his fingers crammed into his ears.
I reached over to pat him and the poor guy was shaking.
We left within five minutes of walking in.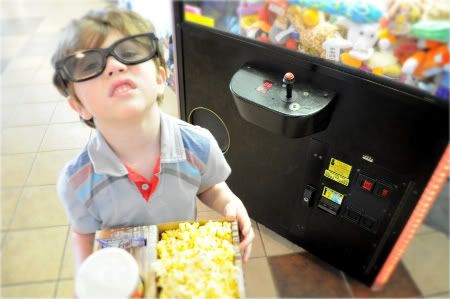 (Griffin after we walked out of the movie, being forced to stop and pose again)


We were all grumpy as we left.
From the 3D movie tickets,
to the popcorn, and sodas that we purchased,
we blew $50 on a Matinee Movie gone awry.

We figured out that the entire experience
cost us a dollar a minute.

Someone won't be going to the Movies again
until a certain five year old turns seven!