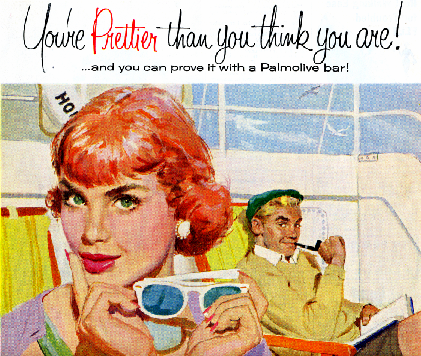 The other day I was at the grocery store pondering a purchase in the deli meat area. A sweet looking old man who looked to be in his eighties came whizzing by on his motorized scooter. He stopped his little scooter dead in his tracks and said to me "You look nice today." I blushed and said "Thank you." He then replied "I'm in artist so I have an eye for pretty things and just had to tell you." Then he whizzed away. God bless that old man because I floated through the rest of the grocery store feeling prettier than ever.
That night at the dinner table, we all took turns sharing one good thing that happened to us that day. ( Yeah, we're that dorky family that does that every night at dinner) I shared the little grocery store exchange with the table and my husband tried his hardest to hide the fact that he wanted to be give that old man a knuckle sandwich for
chattin
' up his lady. I love this about him, if another man checks me out, my husband puffs up his chest like a good old fashioned gentleman should. Instead, he smiled and said "You do look really pretty today."


Hmmmm
...I need to wear that shirt more often.
So, fast forward two days later. It's Easter and I have on a fancy shmancy new Easter dress. I actually took a shower and flat ironed my hair to look presentable for the annual family Easter Egg hunt at my mother-in-law's house. When Griffin saw me he exclaimed
"Mommy, you look so pretty, you look like a work of art."


Of course my heart melted and he was promptly covered with hugs and kisses.
If he can hold onto that line and use it on his prom date later in life,
then he is going to be a ladies' man for sure.

He must have really been listening when
I told the story of my eighty year old boyfriend at the grocery store.

For a woman like me who spends most of my day
covered in baby drool and finger paints,
it's nice to know that I still got it.


Even if it's just with eighty year old men and five year old boys.