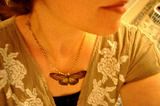 This necklace makes me feel mighty pretty!

I found it at a Fine Arts Festival in the mountains.
I spent twenty minutes in a tent admiring each butterfly
and trying to decide which one that I wanted to buy.

This one seemed to call out to me.

I have gotten tons of compliments on it
and I'm sure that I stand up straighter when I wear it.

It's so nice to find a piece of jewelry
that makes me feel so feminine.

I just have to pass the information onto you
so that you can feel beautiful too.

You can find YOUR butterfly here!