I'm realizing that my days around here seem to run together.

Ordinary moments unfold around me daily
and I need to stop and relish in them.
One day, my boys will be out living life
and I will miss these everyday experiences.
So, I am taking the time to document
the simple moments that pass between us.
I'm calling this little collection of memories
The Stay At Home Mom Chronicles
.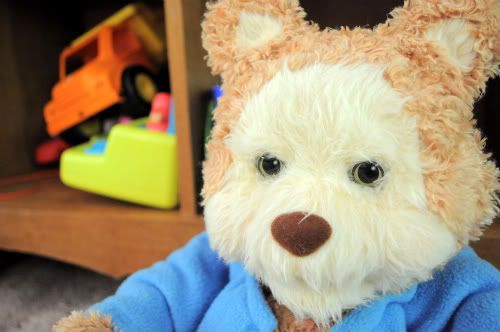 My child is slowly driving this bear insane

.
This is TJ Bearytales and he tells stories.
Koen loves him.
My sister-in-law gave it to us as a hand me down
and from the moment Koen met him
it was love at first sight.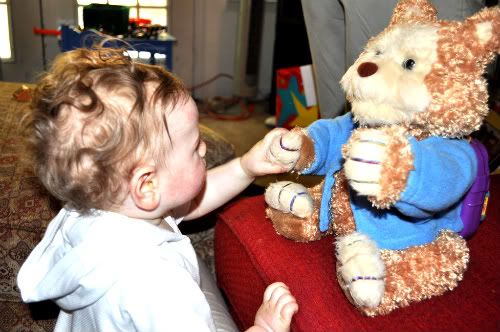 (actual photo of their first meeting, can you feel the love?)
He loves this toy so much that he is slowly destroying it.

He drags poor TJ around the house by one arm.

He boxes his head and grabs his ears and shakes him to no end
.
He attempts to sit in the bear's lap.

It cracks me up to watch him
stand in front of Mr. Bearytales, turn around, back into his lap,

knock him over, and then pull him back up by his nose.
He does this over and over and over.
The poor bear has minor freak outs in response to this kind of abuse.
I
'

ll hear a strange noise and trace it to
TJ Bearytales
.
He randomly starts talking or malfunctioning
at any given time during the day.

It's a little freaky to see this bear flailing his arms around
while shaking his head and wiggling his ears.
He might just have it in for us.
My nephew owned it for 5 years
and
it was in pristine condition when they gave it to us.

My kid has it for one month and the bear has gone crazy.
No toy is safe in my home.