I recently discovered a link up called
"You Capture" over at the blog
I Should be Folding Laundry.
Each week there is a photo assignment.
Yay...another excuse to play with my camera.
This week's assignment was "Sky".
I didn't want to just go outside, point my camera up, and start shooting.
I decided to play around a bit
and I'm so glad that I did because
I found the dreamiest view of...
the sky reflected in the hood of my dirty car.

If you are visiting from I Should be Folding Laundry
then I simply can't let you leave without telling you about...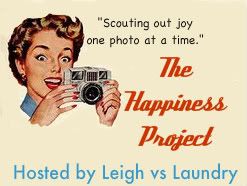 Every Tuesday I host
The Happiness Project.
If you want to jump on the bandwagon
simply post a photo of something that
makes you wildly happy.
Then, steal my button up there
and include it in your post.

I can't wait to see what makes YOU happy!