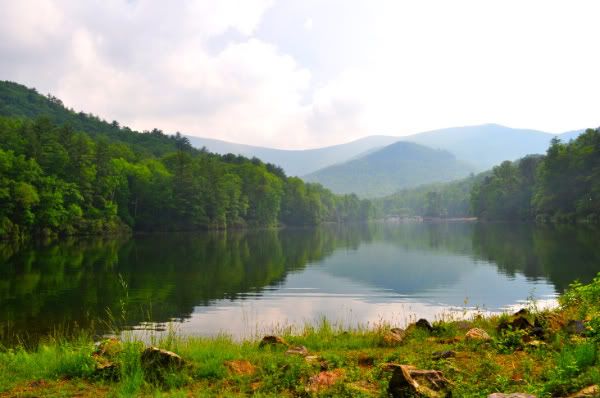 The amazing view at Vogel State Park.

We are back from our amazing trip to the mountains. We had a bit of good fortune because Dave FM was having a Flashback 80's weekend on the radio.
Being that my inherited Lincoln Towncar has no CD player, this made our weekend so much more fun.
We drove through the mountains with the windows down and sang REM, The Cure, The Smiths, and Jane's Addiction songs at the top of our lungs. The radio in the cabin was tuned to that station as well so the cabin was filled INXS, The Go Go's, David Bowie, and all the other fun artists that made being a kid in the 80's so awesome.
Saturday night, the most delicious storm rolled in. We drank White Russians and sat on the porch swing to watch the storm. The sound of the raindrops falling all around us seemed to wash away all of the stresses of life and parenthood. The lightning flashed, the thunder cracked, Roger put his arm around me, and we looked at each other and smiled. It's the simple moments that I enjoyed the most.
(We got back late so I will post the winner to Freakshow Friday as soon as I think that our judge is awake. I don't want us to have a cranky judge from being woken up by an early morning phone call. Please check back later!)