Yesterday Griffin and I headed over to the local Skatepark
because Tony Hawk and his crew were in town.
It was a total trip for me because
I was a bit of a skate Betty in high school and
I would have been in heaven when I was 15 years old.
There were dreamy skaters all over the place.
I mean, half of them I could have spanked
and they might have thought that I was disciplining them,
but that's beside the point.

We arrived early and joined the crowd
to watch all the local kids put on a show of their own.
There were a whole lot of hipsters
standing around or dropping into the ramp.
I had an accidental cathartic moment as I watched them.
I remembered that I had spent a good chunk of my adolescence
surrounded by hot skaters and trying my hardest to be irresistibly awesome.



I've quit caring about if I am cool or not
and then being a chubby mom at a skatepark
who didn't care if she was cool
made me feel infinitely cooler.


Anyway, most of those small hipsters fell on their asses but

there were a few who pulled some decent tricks.

Griffin was cheering and jumping all over the place.
I could totally tell that he wished he was a rad skater.
It warmed my heart a bit.

We found a spot on the bleachers next to the cutest couple
of teenagers who were so hot for each other that
they both squirmed in their pants.
If you look closely you will see that
they are both resting their feet on his board.
They sat with their arms around each other
and smacked passionately on bubble gum.


Seeing this took me back to various skaters I dated in high school.
They melted my butter, if you know what I mean.
It was fun to reminisce about making out with sweaty boys at the skatepark.
Ah...those were the days.


I digress, Tony Hawk came out and everybody screamed, including me.
I was so star struck as he did his Fakies and his Ollies
and Grinded his way around the ramps.
I was four feet away from him at times,
It was awesome.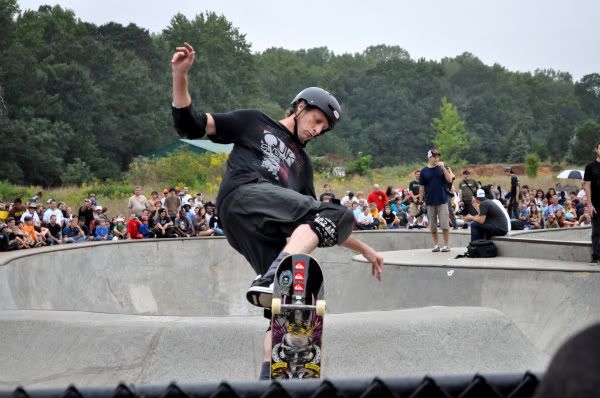 Griffin found a little friend in the crowd
and they kept yelling stuff like
"Don't Fall on your buttocks and bash your brains out, Tony!"
(Griffin isn't allowed to say butt so he now says buttocks all the time, it's maddening).
They also spent a good deal of time making
fart noises with their hands.
Then it started to rain super hard.
I pulled out my umbrella and was ready to rock.
When I looked up, everyone was running to find shelter.
I was all like, what's the problem?
Tony Hawk was a sport and gave a high five to every kid
that rushed to the fence with an outstretched hand.
Then ran like hell into a waiting trailer
and was never seen again.
That part was not so awesome.
The end.