We have a winner for this week's installment of Freakshow Friday. Please take note that my super hilarious and non biased best friend was the judge. Here are the top three in no particular order.

Caroline of Salsa Pie..
In a final act of defiance, Chad rebelled against his mother's advice
to "Lose the mustache" for the Senior Class pictures and lost his shirt instead.
Amy
Chippenfail.
I Live In
...Uni-brow wax or a trim of the bangs...lifes tough choices.
Chad always chooses bangs.
The winner is...
Amy
Chippenfail.
Amy
is the funniest blogger in all the land.
Now head on over to her blog
and marvel at this fantastic award she just earned
to proudly display forever.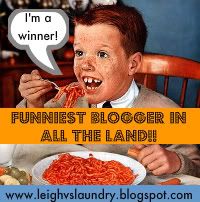 Thanks to all the people who played.
Tune in this Friday for another instalment of Freakshow Friday!