I believe that our environment is a direct reflection of what we are feeling within ourselves. For example, to give you an idea of how my husband has been feeling, I will talk about our yard. Our poor yard has been neglected for years. Granted, we live on 2 acres and we are surrounded by a forest, but that does not matter. Thank God no one in the neighborhood can see our home from the street because if they could, they would think that we are rednecks. The lawn is ignored, the paint is cracking on the porch, the trees are overgrown, and the lawnmower has been broken for a year and a half.

I can't just put the condition of our home off on my husband either, my laundry room is a direct mirror to my soul. Unwashed clothes and insanity live in front of my washing machine at all times. The clothes live in various piles in states of dirty, clean, and clothing purgatory.

Inside, my thoughts have been piling up just like my dirty dish towels on the floor. My husband's spirit has been overgrowing like the weeds at the end of our driveway that are now small trees. We trudge on...walking through the fallen leaves and sifting through the laundry baskets for a matching pair of socks. Sometimes, we even settle for a mismatched pair.

Well, over the weekend something amazing happened...we rolled up our sleeves and took care of our home. We had an appraisal scheduled for this morning so there is nothing like an appraiser roaming through your home to get you motivated. It was cleaning insanity! Roger and my dad mowed the lawn, cut down trees, blew leaves off of the driveway, and even fixed a broken railing on the porch. I set myself to the task of defeating the laundry room. I separated, washed, folded, and put away all of the insane clothes. Overcoming my stage 4 hoarder ways, I cleaned out closets and donated bags of treasures to Goodwill. I dusted and mopped and put a little elbow grease into cleaning my bathtubs. If my life were a movie, the weekend would have been a montage of us cleaning to that Karate Kid song about being a hero. You know the one that I'm talking about?
This one...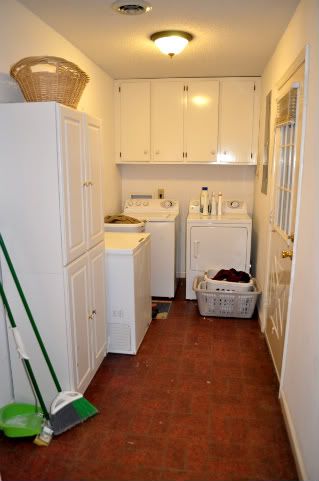 Check out my mad cleaning skills!
As the layers were unearthed in my yard and laundry room, I could feel a fog lifting from around us. Every single action that we took to take care of our home settled someplace deep within. We tended to the house but really, we were taking care of ourselves. It felt so good to take pride in our little home that is full of love and a light layer of dust. Nothing like a little dusting of the soul to make your entire life feel renewed.