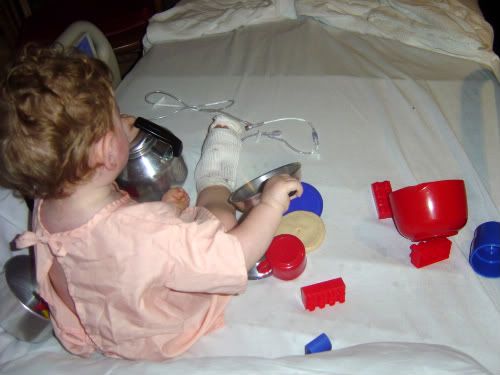 As Mama, it is up to me to show my children how to be fearless in a time of crisis. I spent some time last month with Koen crying in my arms and looking down at him with a heart full of fear and worry. I never once let him in on the fact that I was alarmed. You see, Koen had to be admitted to the hospital with a possible case of Mastoiditus last month. This is a very serious infection of the mastoid bone (which is located behind the ear) that can cause all kinds of horrible things to children if it goes untreated. So, we took it very seriously when we were told to get blood work and a CAT scan for a true diagnosis.

We found ourselves in a bright lab room in the hospital. The nurse stuck him in his chubby foot to get the blood work as he lay down on the cold lab table. I leaned over his body and held his hands so that he could not escape, my face was just above his and he was screaming beneath me. My heart started to race and my eyes welled up with tears as I put my lips next to his ear and sang old church hymns to try to calm him down. He struggled and cried and I just wanted to cry with him. I brushed the hair from his forehead and my tears almost started to fall when I saw his eyes focus on my face. In that single moment of eye contact, our souls spoke. He looked so fearful and was looking to me for strength.
At that moment I knew that I could not cry with him, it was time for me show him that he was safe and that I was not afraid. Fighting back the tears, I told him "Look at Mommy, you are safe, Mommy is here, it's almost over." His eyes locked with mine and he calmed down as I continued to gaze at him and sing. His little body relaxed and they were able to get the blood that they needed. I snatched him up and rocked him to sleep, still fighting back the tears.
We spent three days in the hospital so that he could get an IV of antibiotics to clear up the infection. The poor little guy had to have an IV in his foot and could not walk the entire time. I found reservoirs of strength dwelling within me. My mom stayed at the hospital with us the entire time and we tried to make it as easy as we could for my sweet little fella. We found a child's size wheelchair and we would go on walks around the floor. We would wheel him up to a window that overlooked the parking lot and let him watch the cars. It was October so the nurses had decorated the unit with pumpkins and black cats. We made a game to see who could find the most pumpkins. We let him empty an entire box of cheerios on the bed and then throw them all on the floor. We found pots and pans in the playroom and let him pretend to cook Legos. All the while, my heart was breaking into a million pieces for my strong little boy. I could not allow myself to feel weak because he needed me. We created a "new normal" in the hospital and thrived on our new routine.
The next week, we ended up at Outpatient Services getting tubes put in his ears and his adenoids removed. He woke up in furious fit in the recovery room. As he kicked and yelled himself awake from the anesthesia, I found myself singing the same church hymns in his ear. A nurse came into check on him and was a flurry of explanations. "This is just him coming out of the anesthesia , he'll calm down soon." she announced. I was a rock at that moment even though my heart was pounding. My child flopped around like a fish out of water in my arms. I nodded to the nurse and was a bit dismissive as she said "Oh, so you're not upset that he's upset?"
I could not allow myself to be upset with him. He needed me and I tapped into that reservoir of strength yet again. We wrestled and I sang to him and tried to calm him down. Inside, my heart was racing and I could feel panic sneaking up on me. He finally settled into my arms and took a nap. The nurse patted my back and said "Good work mama, most mothers freak out when they
see their children in that hysterical state."
I did not cry one tear until I was home with a healthy toddler. I climbed into the shower and with water dripping down my face, let go of all my strength, and cried my eyeballs out. I had remained strong for my sweet boy with courage that only a mama could have. There will be more moments in my boys' childhood where I have to be a solid force for them, I'm sure. No matter how my heart aches for them or beats fast with fear near them, I will always be the woman who makes them feel safe.
It's simply part of the job.