I have a little window in my kitchen
that is perched over my sink that it is covered
in treasures that make me smile.

It's tacky and overflowing with
mismatched vintage and new finds from different time periods.
Stained glass and celebratory bottles shine in the sun.
I just love this happy little window sill.
It holds all kinds of memories and history for me.

Let me break it down for you...


Each little item is special for it's own reasons.
Like these little piggy salt and pepper shakers
that my mother gave me as a gift over Christmas.
They flirt with me while I load the dishwasher.
They are pure bliss.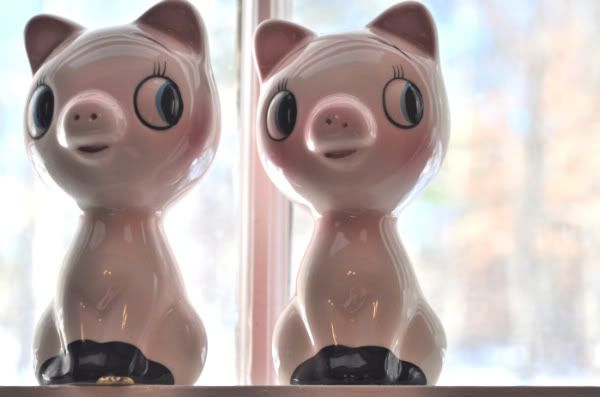 I just love this grumpy ol' guy that I found at the flea market.
You cannot be in a bad mood with him scowling at you.
Look at him...he's just fantastic, if you ask me.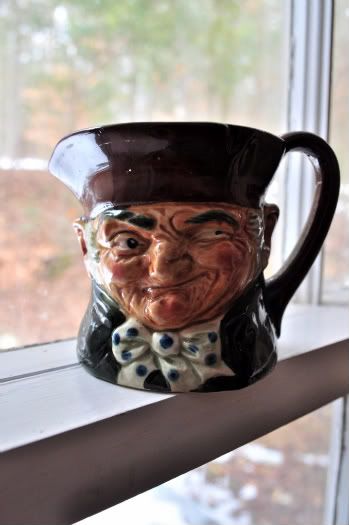 28 Days of Happiness
Project.
Roger found it for me at an antique store.
She sits daintily on the window sill
and holds my rings while I rinse the dishes.
Griffin made me this sweet little heart
and presented it to me at the
Mother's Day Tea Party.
I get all warm just looking at it's
handmade goodness.
Oh...these ladies made it into my
28 Days of Happiness too.
I admired them at a Country Store in North Georgia
and my dad made a trip back to the store to fetch them for me
and gave them to me as a gift a few years ago.
Such a loving gesture...
they make me beyond happy.
There is this awesome variety store in my town.
It's like an old fashioned five and dime.
Griffin found this charming little apple
that houses a scrubbing sponge for me there.
It's lovely to have a nice clean home for my sponge.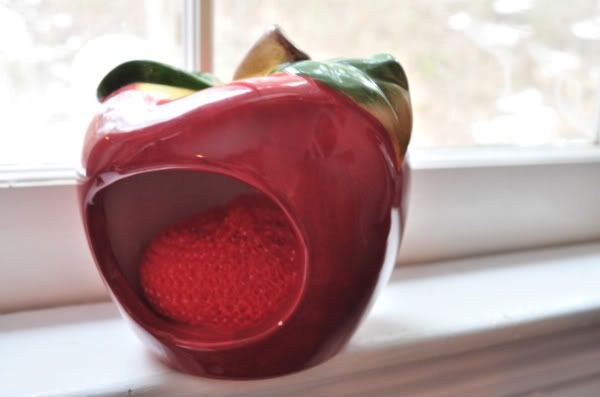 Then there are my beloved juice glasses.
There is a story behind these
Go ahead and read it
here
, I'll wait.
Are you back?
Sweetest glasses EVER, huh?