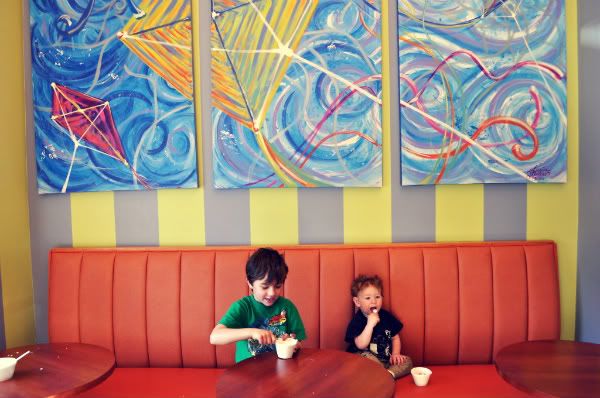 Getting ice cream on Saturday afternoons.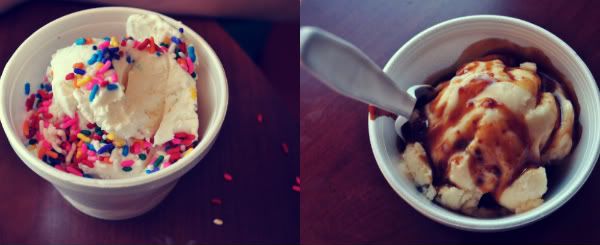 We have a family tradition that we do on sunny weekends
and that is to go to the ice cream shop and get treats.


You can feel the excitement as we enter the store and spill over the counter to contemplate what the perfect sundae will be.

We sample confectionery delights with little plastic spoons
and take our time scanning the toppings.

The boys lick their lips and jump up and down
as they wait to get their sundaes handed to them.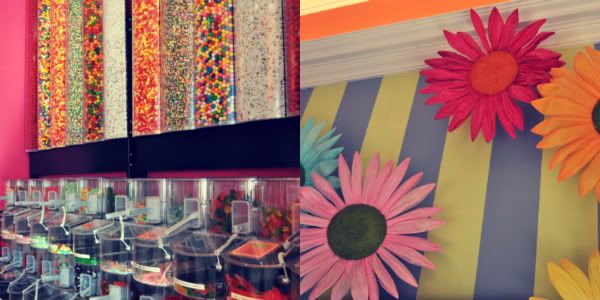 We all gobble up our ice cream
and the boys take turns
escaping from the table to run
around the store in a sugar induced fit.
Their feet scamper past walls that are lined with candy
and big puffy Sunflowers.

I abandon my ice cream
to chase them down and
scold them like an angry mama hen
for performing such a wild rumpus
throughout the store.

Yet, even though I act annoyed,
(as any self respecting mother should
when her children act insane in public)
I secretly love that part of our ice cream outing.

To see the boys laughing and running amok
with rosy red cheeks reminds me of
what being a child is all about.

I would give anything to feel that wild and free.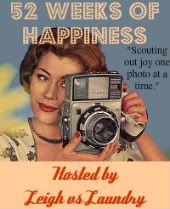 Want to join me in my quest
to scout out happiness for a whole year?
Simply post a photo of something that
makes you wildly happy and tell us all about it.
Then, steal my button and include it in your post.

If you've been participating in
The Happiness Project regularly
feel free to add up the weeks that you've already done
and start your 52 weeks at that number.
Don't forget to link up to Mr. Linky!
Please leave a comment to let me know that you were here.