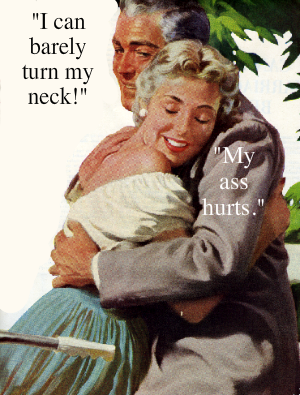 The other day Roger had a crick in his neck

and I managed to somehow pinch my sciatic nerve on the same day.
We decided after the kids went to bed
that we would pull out the heating pad and an ice pack
to alternate applying heat and cold to our sore body parts
as instructed by Dr. Meg,
the chiropractor sent here from heaven.
The woman is angel.

I digress...
Both of us were too sore to rummage around
the house to find an extension cord
so we had to sit at one spot on the couch near an outlet
so that the heating pad could be plugged in
and still reach us.

He plopped down and applied heat to his neck
while I sat on an ice pack next to him
and we watched television together
as we nursed our wounds.

After about ten minutes we decided to swap
but since the heating pad had to stay in that spot
we had to stand up to switch places.

You should have seen us,
you would have thought that we were 80 years old.
We moaned and groaned
and grimaced as we shuffled around
each other in front of the couch.

Then, we both fell with a thud
into the couch cushions and moaned some more.

We couldn't help but laugh
at ourselves as we both envisioned
that this was a glimpse of what it will be like
when we grow old together
and start to fall apart for real.

I can just see myself
rubbing Ben Gay into his neck and
giving him a weak little massage
with my Carpel Tunnel ridden hands.

Then he will offer to massage my sciatica
and I will smack his hand
and tell him that I don't feel like having my sciatica rubbed.

It just sounds so terribly romantic.

The End.