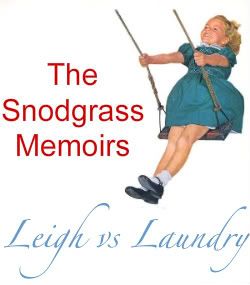 Once upon a time, I was a little girl
and my Mom called me "Snodgrass".
It was a term of endearment that survived the test of time.
Just typing that word makes me feel safe and secure.
I have so many wonderful memories filed away from my childhood
that I've decided to start recounting them and
I'm calling this collection of memories
The Snodgrass Memoirs.
When I was four years old, money was tight for my parents. My Mom wanted so badly to take us to Disney World but there was no way that we could afford it. So, I remember feeling shocked when she came into my bedroom and told me to pack a suitcase because we were going to Disney World. I grabbed my "I'm Going to Grandma's" suitcase and filled it with what I thought were the essentials. Now, I don't remember the exact contents but I can only imagine that it was stuffed with things like a hairbrush, a Barbie doll, a cookie, and a mismatched pair of socks.

My older brother and I piled into our bright red station wagon and excitement filled the air as we pulled out of the driveway. With visions of flying Dumbos dancing in my head, our journey began. We drove down the street with the windows rolled down when my Mom announced "Look over there, it's a huge mountain!" We followed her finger to see a bolder in my neighbors yard. Confusion set in as she quickly pointed out the other window and shouted "Now I see the ocean!" in reference to a sad little sprinkler in another neighbors yard. "Roll up the windows, before someone hears us." I remember saying as we slowly drove around the block, looking at pretend landmarks.

We pulled back up to our driveway and my Mom yelled "Here we are at Disney World!" It was then I realized that we were not about to get anywhere near Cinderella's castle but that we were on a pretend trip. We all piled out of the car and entered the front door to see that the living room had been set up to look like a hotel room. The pull out bed was pulled out from beneath the couch and covered with crisp white linens. Fluffy towels were folded on the coffee table. She had taken a small television set from the den and put it in the living room. "Welcome to our vacation!" my mother announced.

To some, this may seem cruel, but we had the time of our young lives. The backyard had a slip-n-slide set up along side a kiddie pool. We ran outside, played in the water, and pretended to be at the most magical place on earth. We ate tons candy and my Mom took turns spinning my brother and I around while holding our arms. My little feet dangled in that air as we spun in circles and I remember gazing at her face and thinking that she was the funnest Mom on the planet. Later that evening, we pretended to call for room service and ate dinner in our "hotel room". Then we all snuggled into the pull out bed and watched TV until we all dozed off. Everyone ended up abandoning the "hotel" bed for their own but I was steadfast and slept the entire night on the lumpy sofa mattress, I was on vacation after all.

The next morning, we wiped the sleep from our eyes, packed up our suitcases, and cleaned up the living room. Then we all hopped in the car and drove around the block the other way to drive home from our pretend trip. We had a blast pretending to see the sights as we drove along and I remember feeling so lucky to have a Mom that could transform our own backyard into something as magical as Disney World.