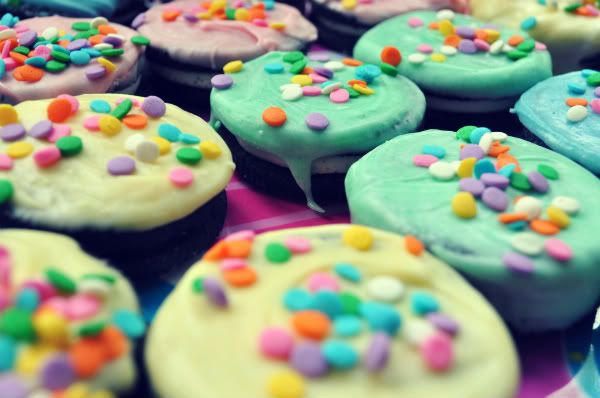 I don't mean to toot my own horn but things have been
looking up for yours truly in the homemaking department.
My misadventures suddenly feel more like happy little adventures.
I'm not sure what's happening but it's been at least 3 weeks
since I burned some taco shells in the oven.
Otherwise, my oven has been burn free.
I decided to test my luck and make these cute cookies
for a Spring Celebration at Griffin's school.
I found this recipe over at the one of my favorite food blogs,
The Picky Palate
(the good Lord knows that I have a picky palate sitting at my table every evening).
Here is the recipe.

White Fudge Dipped Easter Oreos
Bag of Oreo Cookies
Bag of Wilton White Candy Melts
Food Decorating Paste or Food Coloring (red, yellow, blue and green)
White nonpareils Sprinkles
1. Take half of the Oreos out of the package and set on plate so they are ready to go. Melt candy according to package directions until smooth. Divide white chocolate into 4 separate bowls then add paste or food coloring until desired color is reached. Start with just a tiny drop so you get pastels :) Stir then dip tops of oreos in chocolate. Use spoon to spread evenly. Sprinkle with sprinkles then place onto foil, parchment or wax paper to dry. Continue dipping until Oreos and chocolate is used up. Serve room temperature or chilled, Enjoy!!
Guess what?
These cookies were a smashing success.
I'd say that in the battle of me against my kitchen
that I totally took this one!
Let's look at the score card for those that are keeping track!