I'm inviting romance into my life
one Friday Night Date at a time
and documenting each one here on my little ol' blog.

I want to remember every detail
of these splendid home spun dates.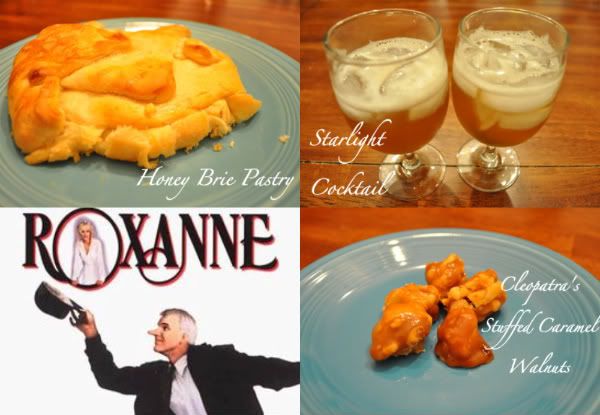 This was the date that almost didn't happen.
We had a super busy week, so
when Friday rolled around we decided to postpone it to Saturday night.
When Saturday night rolled around, we just wanted to go to bed.
We pushed through and in my exhaustion,
I managed to make a Honey Brie Pastry
that kinda looked like Steve Martin.
Impressive, I know.
As for our lovely date night...
the caramel walnuts were decadent,
the drinks were way too strong,
and the film was hilarious.
Any movie that has a
steamy sax solo in the theme song
is going to make us laugh.
We snuggled up and tried our hardest not to fall asleep.
I might have woken up drooling twice.
Ah, romance.
Here are the recipes:
CLEOPATRA'S STUFFED CARAMEL WALNUTS
Mix some almond paste with some orange extract. Spread this between two walnut halves. Melt some caramel candies with 2 Tbsp. water in the microwave and stir until smooth. Dip each whole walnut in the melted caramel and place on waxed paper to harden.
It is said this delicacy was fed by Cleopatra to her lovers to give them energy.
1 (14 ounce) round Brie cheese
1 (10 ounce) can refrigerated crescent roll dough
honey
1. Preheat the oven to 375 degrees F (190 degrees C). Unwrap the wheel of Brie, and crescent rolls.
2. Unroll the crescent roll dough, and wrap around the Brie. Press seams together to seal in the cheese. Place in a 9x9 inch baking dish. Drizzle honey over the whole thing.
3. Bake for 30 minutes in the preheated oven, until golden brown and cheese is soft.
2 ounces Chardonnay, such as Night Harvest
1 ounce dark rum
½ ounce vanilla bean syrup
½ ounce pineapple juice
1 lime wedge
In a cocktail shaker, add all liquid ingredients and shake vigorously 10 seconds. Fill a highball glass with ice and strain cocktail over ice. Squeeze lime over top of drink and drop lime in to finish the drink.