I'm inviting romance into my life
one Friday Night Date at a time
and documenting each one here on my little ol' blog.

I want to remember every detail
of these splendid home spun dates.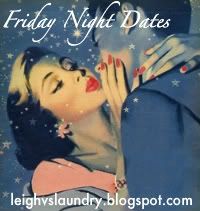 Date #9

Date #9
We had such a great time on this date night.
Roger suggested that we should watch the film The Philadelphia Story
because he had seen it as a teenager several times
at his Aunt and Uncle's house
and loved it.

It was so lovely to share something from his youth with him.
The film itself is such a classic romantic story
and really funny too.
The brandy in the Sidecar Cocktail
made my head swirl
as a sweet passionate kiss unfolded
between Jimmy Stewart and Katherine Hepburn.

I might have stolen a few kisses of my own.

Here are the recipes...

Sparkling Pear Sidecar

Ingredients
* Ice
* 2 ounces pear brandy, such as Poire Williams
* 1 ounce triple sec
* 1 tablespoon fresh lime juice, plus one 2-inch-piece lime peel
* 1 tablespoon sugar
* Splash club soda
1. Fill a cocktail shaker halfway with ice. Add the brandy, triple sec, lime juice and 1/4 teaspoon sugar and shake vigorously.
2. Place the remaining sugar on a small plate. Rub the rim of a cocktail glass with the lime peel and press into the sugar. Toss the lime peel in the sugar to coat. Strain the drink into the glass and add the club soda. Garnish with the sugared lime peel.
Apricots with Basil-Goat Cheese and Almonds
Ingredients

* 4 ounces fresh goat cheese such as Laura Chenel, at room temperature
* About 2 tsp. milk
* 2 tablespoons finely chopped fresh basil
* 40 dried apricots, preferably Blenheim*
* 40 almonds, preferably Marcona or Marchini
* 2 teaspoons honey

Preparation

1. Mix together cheese, 2 tsp. milk, and basil with a wooden spoon until spreadable. Thin with more milk if necessary.
2. Spread a heaping 1/4 tsp. cheese on each apricot and top each with an almond. Drizzle with honey.