Lamenting the last week of summer.
Yesterday was Griffin's first day back at school.
We are so excited about his new class
but I wanted to reflect on the happiness
that can be found in the very
last week before school starts.

It's so fun to savor the last
days of freedom.
Like playing on a slip-n-slide at a friend's house.
Playing huge video game marathons.
Who cares if the kid is playing
Mario Kart for 2 hours straight?
It's summer and soon enough
the controller
will be traded for pencils and books.

I just love the way Griffin believes
that his Mario sweat band
gives him super strength.

Of course, the last week of summer
is also a time to get geared up for school.
We played the "first day of school" with lovies quite a bit
to work out any first day jitters.
The innocence is just so sweet
and I anticipate that this will be the last summer
that Griffin needs to play out his anxiety
with stuffed animals.
So, I really treasured the time spent
pretending to drop teddy bear and fox off at school.
The excitement of going to the store
to buy school supplies
is always thrilling.
Griffin skipped proudly up and down the store
with his new backpack and lunchbox.
He felt so much anticipation
for the big day.
I will always treasure the last week of summer.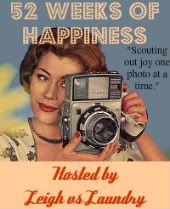 Want to join me in my quest
to scout out happiness for a whole year?
Simply post a photo of something that
makes you wildly happy and tell us all about it.
Then, steal my button and include it in your post.
Don't forget to link up to Mr. Linky.