I'm inviting romance into my life
one Friday Night Date at a time
and documenting each one here on my little ol' blog.

I want to remember every detail
of these splendid home spun dates.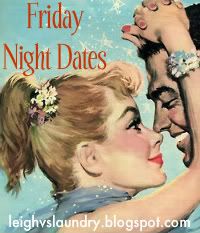 Date #15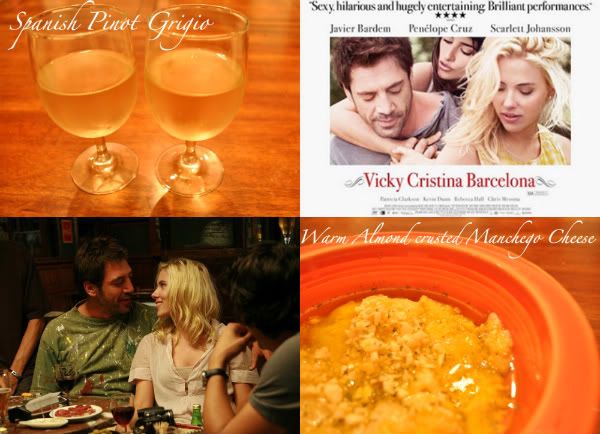 The Manchego cheese may look like
a plate of slop but it was so decadent.
The film dazzled both of us
as we sipped on Spanish wine and drank up the culture.

The movie was sultry and thought provoking.
I was wooed by the seductive plot.

Here are the recipes...
Warm Almond Crusted Manchego Cheese
with Hot Garlic Vinaigrette and Slivered Almonds
Ingredients
* 1/4 cup all-purpose flour
* Salt and freshly ground pepper
* 1 large egg
* 1 tablespoon water
* 1/4 cup panko bread crumbs
* 2 tablespoons ground almonds
* 1 (8-ounce) slice manchego cheese, about 1-inch thick
* 2 tablespoons olive oil
* Hot Garlic Vinaigrette, recipe follows
* 1/4 cup slivered almonds, lightly toasted
* 2 tablespoons coarsely chopped flat-leaf parsley
Directions
Set up 3 bowls: 1 with flour seasoned with salt and pepper, 1 with egg and 1 tablespoon of water and seasoned with salt and pepper, and 1 with the bread crumbs and ground almonds.
Preheat oven to 450 degrees F.
Cut cheese into 2 equal pieces. Dredge the cheese first in the flour, then in the egg wash, and finally in the bread crumbs. Place the cheese in a small cazuela, drizzle with olive oil, and season with salt and pepper. Bake in the oven for 5 to 7 minutes or until golden brown and the cheese is soft. Immediately drizzle with the Hot Garlic Vinaigrette and sprinkle with slivered almonds and parsley. Serve with warm crusty bread.
Hot Garlic Vinaigrette:
1/4 cup olive oil
3 cloves garlic, finely chopped
2 tablespoons aged sherry vinegar
Salt and freshly ground black pepper
Heat oil over low heat in small saute pan. Add garlic and cook until light golden brown. Remove from heat and whisk in the vinegar. Season with salt and pepper.
Did you find time for romance this weekend?