I'm inviting romance into my life
one Friday Night Date at a time
and documenting each one here on my little ol' blog.

I want to remember every detail
of these splendid home spun dates.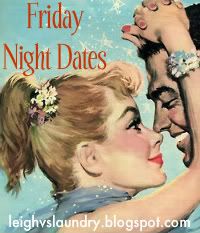 Date #16
So, my husband pinched a nerve in his back
and I had terrible allergies all weekend.
Our date night consisted of
the couch,
a heating pad,
ibuprofen,
a blanket,
and The Office
on Netflix.
It wasn't terribly romantic
but we took care of each other
and that is what true love is really about.
Also, something exciting is going on
over at Leigh vs Laundry Reviews...
click
here
to check it out!