I'm inviting romance into my life
one Friday Night Date at a time
and documenting each one here on my little ol' blog.

I want to remember every detail
of these splendid home spun dates.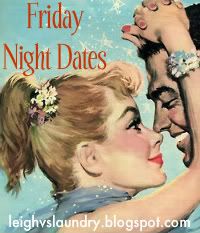 Date #18
I love watching spooky movies in the dark.
We snuggled up and took sips
of our martinis as the plot unfolded.
Our arms intertwined,
I buried my face in his arm
and pretended to be afraid,
even when I wasn't
His hand squeezed my arm
as he pretended to comfort me.
Here are the recipes...
Apple Walnut Crostini
2 cup walnuts chopped
3/4 cup honey
3/4 cup chopped dried apples
2 Tablespoons orange zest
1 tablespoon orange juice
2 teaspoons herbes de Provence
1 teaspoon ground corriander
1 teaspoon lemon juice
salt and pepper
8 ounces room temperature cream cheese
1 loaf of baguette
start with the softened cream cheese and get the herbs and liquids mixed in first
Add the walnuts
Mix it all together. Taste to make sure that it is seasoned properly.
lice the bread and spread some of the mixture on each piece. Put the crostini under the broiler for about 2 minutes. You just want to warm the bread and cheese.
Makes 1 drink
2 oz. apple cider or apple juice
1 oz. pomegranate juice
2 oz. tequila
1 tsp honey (optional)
crab apple or other very small apple for garnish
Combine all ingredients in a cocktail shaker with ice. Shake for at least 30 seconds until freezing cold. Poke a few holes in the apple and add it, with the mini bamboo fork, in the cocktail glass. Pour the liquid over the apple and serve immediately.
Share18
Did you find romance over the weekend?