As we cleaned out our closets over the weekend,
Koen found a small guitar
that Roger had bought at a flea market years ago.

He plopped down and strummed the strings.
It was just so awesome
to see him holding a guitar and enjoying playing it.

Roger plays Classical Guitar
so it was especially wonderful for him to see
his youngest son
take to it so easily.

He caught a glimpse of himself in the mirror
and was fascinated by his reflection.

He turned around and performed for us all.
The most heartfelt nonsensical song filled the room.
His little voice was so sweet
as it accompanied the sounds of disorganized music.

My future musician found a new passion
as I've discovered him playing his little guitar
several times since them.

I can't wait to watch his love for music blossom.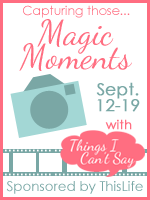 Don't forget that
I am hosting an awesome giveaway
over at Leigh vs Laundry Reviews.

Click
here
to enter!